Xlash Eyelash Serum Review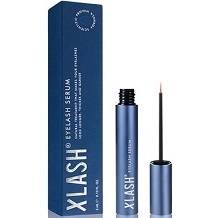 We've reviewed Xlash Eyelash Serum based on the claims that this product can provide its customers with richer and longer lashes. Apply this product daily for a more personal look of lashes that lasts longer than mascara or false lashes. The effect of this product is natural and the result is stronger, shiny and more flexible lashes.
Ingredients
Vitamin B7 (biotin)
Purslane extract
Growth stimulating peptides
Vitamin B7 is one of the most important components of any product that helps hair or eyelash growth. This is because it helps with the production of a protein called keratin which is what provides the eyelashes with integrity and strength. The two plant extracts contain nutrients that the follicle cells need to form lashes of better quality and they also contain antioxidants which prevent chemical damage to the follicle cells and the eyelashes, thus helping them last for longer. The growth stimulating peptides act within particular biochemical pathways in the follicle cells namely those which are responsible for producing the eyelashes so that cells put more of their resources and energy into producing them.
Instructions
Make sure to remove all makeup before applying Xlash Eyelash Serum and it is also recommended to take out contact lenses if you are using them. Wash your hands and face before using this product to reduce the chance of infection. Then apply a thin but even layer of Xlash Eyelash Serum onto the root of the upper and lower lashes once a day before going to bed.
Price
0.1 fl oz of Xlash Eyelash Serum can be bought online for $52.16. All products are shipped without extra charge and customers can get 10% off when they sign up for the manufacturer's loyalty program. The manufacturer is also currently running a special where customers can buy three units and get one free.
Guarantee
The manufacturer makes mention of a money back guarantee which is for customer satisfaction but we were unable to find extra any information in the policy to support this. This means that even though there is a guarantee customers cannot find out how long it is valid for (although the manufacturer recommends use for 3 to 5 weeks) or if there is a particular condition that the product has to be returned in. This makes the guarantee less trustworthy than upfront guarantees which give all that information readily.
Conclusion of Our Xlash Eyelash Serum Review
The collection of ingredients in this product appears to be a good combination scientifically speaking because they target lash growth from various angles. The instructions for using this product are also quite clear and easy to follow. The price of this product is not too bad but the discounts that are offered really do pale in comparison to other manufacturers which we have reviewed, and so this product really isn't the best value for money on the market. Even more concerning is the fact that the explicit terms of the guarantee are  not given to the customer.
Top investigative research brought to you by the experts at Customer Review.