Babe Lash Eyelash Serum Review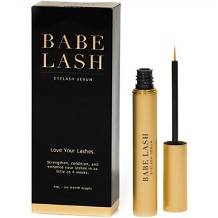 The following review is about a product called Babe Lash Eyelash Serum, that is designed to help natural eyelashes look longer and fuller. The manufacturer claims that it can also be used on brows and with lash extensions. Furthermore, you can use it with Babe Lash Enhancing Conditioner for best results.
Ingredients
The ingredient list contains both the active and inactive ingredients. Therefore, it is not easy to tell which are active, and which are inactive ingredients. We have selected a few that seem to be the key ones.
Radish Root Ferment Filtrate
Arctostaphylos Uva Ursi Leaf Extract
Biotin
Chamomilla Recutita Flower Extract
Citrus Grandis Seed Extract
Ethylhexylglycerin
Valine
Yeast Extract
To mention some of the few roles played by some of the ingredients, Radish Root Ferment Filtrate has moisturizing effects. Chamomilla Recutita Flower Extract provides antioxidant protection, soothes, moisturizes and prevents the growth of bacteria on the skin. Citrus Grandis Seed Extract is rich in vitamin C. It acts as an antioxidant that protects skin cells from free radical damage.
Biotin contributes to strengthening your hair, which could possibly help in strengthening your eyelashes.
Instructions
Use Babe Lash Eyelash Serum in the evening by applying it directly to the lash line on clean, dry, skin. Use a single brushstroke for each eye. Avoid touching eyes until the serum has dried. For best results, pair with Babe Lash Enhancing Conditioner.
Price
You can purchase this serum directly from the manufacturer, through their website. The price is $120.00, which is much higher than most similar products that we have reviewed. We checked Amazon's website and discovered that the product is also available in a smaller size (2ml), which costs much less than the bigger one (4ml). We also found that the 4ml price is cheaper on Amazon.
It is not clear why the manufacturer only sells the big size and not the small size on their website.
Guarantee
Unfortunately, there is no money-back guarantee on this product, which means that you cannot return it for a refund if you are unsatisfied with the results. However, if you return it, it should be in an unused, and re-sellable condition, and that should be done within 30 days of purchase.
Conclusion of Our Babe Lash Eyelash Serum Review
Babe Lash Eyelash Serum could be beneficial in making your lashes look longer and fuller. The manufacturer claims that it is an award-winning product. One bottle can last you for 6 months, and you are able to return it within 30 days for a refund if you do not want it for some reason. It must be noted, however, that you cannot return an already used product. Therefore, it should be in an unused and resellable condition.
We have also noted that this serum seems to work best when used with Babe Lash Enhancing Conditioner. This creates an impression that best results will not be achieved if only used individually, which then creates an impression that the product is not strong enough when used on its own.
We got concerned when we came across some consumer reviews on Amazon, where customers were complaining about the product, claiming that it causes eye irritation. Due to these concerns, we recommend that you rather look for another product.
Top investigative research brought to you by the experts at Customer Review.