Beauty Lash Eyelash Growth Serum Review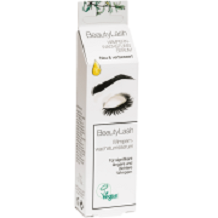 This is a review for Beauty Lash Eyelash Growth Serum. It is intended to help make your lashes longer and thicker while providing nourishment through its ingredients, and giving your eyes more expression. The manufacturer claims that you will notice visible results within 4 weeks if you use it everyday as suggested.
Ingredients
PEG-40 Hydrogenated Castor Oil
Helianthus Annuus Seed Oil
Millet Seed Extract
Aloe Barbadensis Leaf Juice
Wheat Seed Extract
All these ingredients work together, providing your lashes with nourishment, that result in longer and thicker lashes. For instance, Millet Seed Extract contains a compound called miliacin that helps sustain hair growth, and in this case the eyelash growth. Rosemary Leaf Extract also stimulates growth, but it also provides moisturizing effects, keeping your lashes looking healthy.
Instructions
Apply the serum twice daily, in the morning and evening, at the roots of the upper and lower lashes like an eyeliner. Use the product continually in order to maintain the effect. If you stop using the product, you will also not experience any results and will need to restart using the product, if you want longer eyelashes.
Price
Beauty Lash Eyelash Growth Serum can be purchased through the manufacturer's website for $28.93. This price is affordable and reasonable. In fact, it is cheaper than most of the products that we have reviewed so far.
However, it can only be purchased through the manufacturer, as it is not available through third-party retailers. It is also only available in specific regions.
Guarantee
There is no information provided about a guarantee. Usually, if there is a money-back guarantee, information about it would be provided to the consumers on the website of the producer. The lack of information about it indicates that it does not exist. The absence of a guarantee shows that the producer does not have confidence in it, which is a big concern.
Conclusion of Our Beauty Lash Eyelash Growth Serum Review
Beauty Lash Eyelash Growth Serum could be just the product for you, considering the benefits that its ingredients are supposed to yield, such as longer and thicker lashes. The serum is vegan and is dermatologically tested.
The manufacturer states clearly that you will notice the difference within 4 weeks. This makes things easy for customers to determine if the product is working for them or not.
Unfortunately, your lashes will only look longer while you are using the serum. If you stop, so as the effect. Moreover, you have to use it every day for you to achieve results. This simply means that you will need to use it throughout your life, every day for as long as you want thick long lashes. We also noticed that this serum is only available to customers located in certain regions. We also looked for it on Amazon, and we could not find it.
It is disappointing that it can only be purchased through the manufacturer's website, as the possibility is that they will not ship everywhere. We are not confident in this product. Therefore, we do not recommend it.
Top investigative research brought to you by the experts at Customer Review.