Majestic Pure Eyelash Growth Serum Review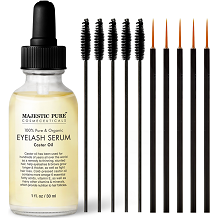 The following review is about a product called Majestic Pure Eyelash Growth Serum, that is intended to help your eyelashes grow longer and thicker. It contains an all-natural castor oil to provide nutrition to your eyelashes. It comes with a glass dropper, 5 eyeliner style applicators and 5 eyebrow applicators that are simple to use and easy to apply.
Ingredients
Cold-pressed Castor Oil is the main ingredient in this product.
Castor Oil contains Vitamin E, fatty acids and other vitamins and minerals that provide nutrition to hair follicles, making your eyelashes grow longer and thicker. Despite that this ingredients could be effective, it would have been even more effective if it contained other natural ingredients. Vitamin B 5 is good for eyelash growth.
Instructions
Starting from the inner corner of your lash line and working outward, draw the applicator tip slowly along the skin at the base of the upper eyelashes in one continuous stroke.
Remove the makeup or/and other cosmetics products before you apply the serum. Ensure that you remove excess serum from the brush before applying it onto your lash line. It is advisable to re-apply small amounts of the serum, instead of fully loading the applicator. This should prevent seepage into your eyes.
Price
The Majestic Pure Eyelash Growth Serum can be purchased through the manufacturer's website for a discounted price of $13.95. The usual price is $21.50. This price is reasonable even when it is not discounted. Most of the similar serums that we have reviewed so far cost more than this, with a reasonable one costing about $28.00.
It is even cheaper on Amazon, as it only costs $12.98.
Guarantee
If you are unsatisfied with the results or for any other reason, you can return the item within 60 days of purchase, for a reimbursement.
This is good, as it shows that the manufacturer makes the satisfaction of its customers a priority. It also indicates their confidence in the product.
Conclusion of Our Majestic Pure Eyelash Growth Serum Review
Majestic Pure Eyelash Growth Serum could be an effective product for making your eyelashes grow longer and thicker. It is made from castor oil, which makes it safer than many other serums. The manufacturer shows confidence in its effectiveness, in that they offer a 60-day money-back guarantee. The instructions about the usage are clear. The price is reasonable even when not discounted.
However, the low price could be a negative thing as it could mean that it is of poor quality, especially considering that it comes with extra applicators that should cost more. We became very concerned when we read consumer reviews on Amazon. There are more critical reviews than the positive ones, with most consumers complaining that the serum does not work for them. Some complain that it hurts their eyes.
Due to the concerns that we have brought up, we do not recommend this product for your lashes.
Top investigative research brought to you by the experts at Customer Review.