M2 Beauté Eyebrow Renewing Serum Review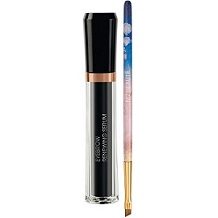 The manufacturer of M2 Beauté Eyebrow Renewing Serum claims that this product will regenerate sparse brows, resulting in thicker and fuller hair within 6 to 8 weeks of product use. This is a bold claim made by M2 Beauté, and our comprehensive review will assess if this product matches up, helping you make wise purchase decisions.
Ingredients
Black Sea Rod Oil
Biotin (Vitamin B7)
Hyaluronic Acid
Prodew 500
Glycosaminoglycans
Provitamin B5
Arginine
Black Sea Rod Oil and  Biotin are known to stimulate hair growth as well as restore and smoothen the texture of hair follicles. Hyaluronic Acid strengthens and protects hair, leaving it silky and glossy. Glycosaminoglycans, Provitamin B5, and Arginine are all restorative ingredients that nourish hair while stimulating growth. Prodew 500 is a patented ingredient that is known to promote the repair of damaged hair as well as condition it. While it's beneficial to see the addition of a patented ingredient, competitors have up to 5 patented ingredients (such as WideLash and AnaGain) to ensure quality and efficacy. Although these ingredients may support the manufacturer's claims, the lack of cruelty-free certification, as well as GMP certification, is a concern as this brings the ethics and quality of the manufacturing process into question.
Instructions
This product comes with a vegan eyebrow brush that can be used as eyeliner too. The manufacturer offers adequate instructions for use. They suggest applying the serum directly to the areas of hair loss on the brows and lashes. This product should be used once a day. For best results, use in the evening once the face is free from makeup and oil, leaving it clean and dry. Wait for the product to absorb before applying any other skincare products. The concentration of the active ingredients was not provided and, therefore, prevents us from commenting on the efficacy of the product.
Price
M2 Beauté Eyebrow Renewing Serum can be bought directly from the manufacturer's website, where a 5ml unity retails for €133,00 ($154,57). There are no package deals, bulk offers, or additional discounts available to promote sustained use. In saying so, this product may become costly in the long term.  We are uncertain how long 1 unit of product will last.
Guarantee
It is unfortunate to note that, even with extensive research, we were unable to find any manufacturers guarantee at the time of writing this review. This is way below the market standard for customer service and may require customers to inquire about any policies in place before purchasing their product. Furthermore, of the limited review available online – there where a few that complained that the product did not deliver on any of the claimed results. This is a concern.
Conclusion of Our M2 Beauté Eyebrow Renewing Serum Review
M2 Beauté Eyebrow Renewing Serum claims to deliver thicker and fuller hair within 6 to 8 weeks of product use. When looking at the formula, we found many beneficial ingredients that could help this product deliver on its claims. However, competing products have up to patented ingredients, where this product only has 1, which may make this product pale in comparison to other brands on the market. The lack of this product being cruelty-free or GMP certified raises questions about the quality and ethics of the production process. Although the manufacturer offers adequate instructions of use, the price is relatively expensive and does not promote sustained product use. Furthermore, the lack of manufacturers guarantee and negative customer reviews is a concern. For these reasons, we do not recommend this product.
Top investigative research brought to you by the experts at Customer Review.