Catrice Lash Boost Lash Growth Overnight Serum Review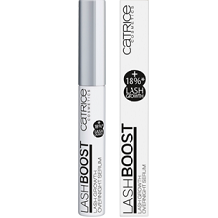 Currently in the marketplace there are a wealth of eyelash serums all claiming to be the best at assisting the longer and faster growth of eyelashes. One such product is Lash Boost Lash Growth Overnight Serum manufactured by Catrice. The serum is said to 1) boost long-term lash growth, 2) promote lash growth by 18% in four (4) weeks, and 3) supply a brush applicator for ease of product application. Continue this review for facts on this product.
Ingredients
The manufacturer mentions that there are active ingredients in the formula, however, these are not identified. Such lack of information is a concern. Potential consumers should be allowed an informed choice before committing to a product, the consumer possibly being allergic to an ingredient. There should also be at least five (5) patented, clinically proven ingredients included, and at least 10% active ingredients, this being the benchmark of an effective product.
Instructions
User instructions are straightforward. The product should be applied to the eyelids using the fine-brush applicator. The applicator works similarly to an eyeliner. It should be applied evenings and left on overnight.
Price
This product is available online. We were unable to locate the price on the manufacturer's own website. On third-party sites this product is listed at $6,72. However, on some of these sites the product is listed as out of stock, which could mean that this product is unpopular. No mention is made of any discounts nor any bundle deals. These types of incentives allow consumers to save money while rewarding them for ongoing loyalty.
Guarantee
The manufacturer offers a 30-day guarantee on return or exchange of this product. The condition in which the product should be returned is not stated. The consumer may not be allowed to open the product. The company does offer a six-month limited warranty on this product, however, terms and conditions of this pledge are unclear.
Conclusion of Our Lash Boost Lash Growth Overnight Serum Review
This product by Catrice ─ Lash Boost Lash Growth Overnight Serum, appears at first glance to be a useful product. There is a 30-day refund period; and the product is presented as an applicator similar to an eyeliner applicator, making application simple. However, the guarantee is vague. The consumer is not offered any discounts nor bundle deals to save them money over the long term. The ingredients used in the product's formula are also not clearly indicated. The company website lacks much information the consumer should be given before deciding whether to buy this product. This lack of transparency increases the risk for the consumer, who could be buying an ineffective product with a weak guarantee. Therefore even though this product has some positive aspects, it also have many negative aspects that should be considered. What should also be considered is that there are so many similar products on the market at this time. These are products that offer better quality ingredients that are patented and clinically proven, firm guarantees, attractive package deals with discounts, and informative websites. These elements differ to this particular product.
Top investigative research brought to you by the experts at Customer Review.