Lotrimin AF Athlete's Foot Deodorant Powder Spray Review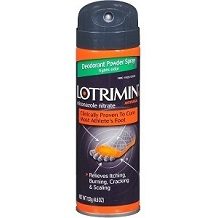 Today we review Lotrimin AF Athlete's Foot Deodorant Powder Spray. This powerful spray claims to help cure your athlete's foot while also stopping the itching, burning, and cracking of the affected skin. Safe for everyone, children and adults alike, this product will help the whole family.
Ingredients
The main ingredient in this powder is Miconazole Nitrate 2%. While we found some evidence that this medicine may help kill the fungus causing your athlete's foot, research shows that Undecylenic Acid works faster and better at stopping the cause of your infection.
Dosage
This spray should be applied twice per day. Before spraying, make sure you shake the can to better mix all of the ingredients. In the morning and at night, apply a thin layer of this product on your feet, making sure your get the small spaces, like in between your toes. During the day, you should wear well fitted, airy shoes, and you should change into clean socks at least once per day. Lastly, this spray needs to be used continuously for 4 weeks to ensure all of the fungus has been killed. If you find the nozzle clogged from the powder, you can clean it using a pin
Possible Side Effects
First of all, it is important to note that this product is flammable. Secondly, this spray should only be used externally and your eyes should not be sprayed. If the irritation gets worse or does not clear after the initial four weeks, you should speak with a doctor about how to proceed. Lastly, while this product is safe for kids, it should not be used on toddlers and infants under the age of 2.
Price
Instead of selling this product directly to their consumers, this manufacturer offers a page on their website dedicated to helping you learn where this product is available for purchase. We found the product available in a pack of three 4.6 ounce bottles on Amazon for $19.32. Additionally, there is a $3 off coupon available for this product as well as free shipping on orders over $25. Unfortunately, one of the biggest complaints by verified customers was that, when they purchased this, either only one bottle would come in their package, or at least one of the bottles they received did not work.
Guarantee
Like with most companies that do not sell products to their customers, we found no information regarding a money back guarantee or a return policy listed on their website. Without this information, it shows the manufacturer does not fully stand behind their products.
Conclusion of Our Lotrimin AF Athlete's Foot Deodorant Powder Spray Review
There are a few things we liked about Lotrimin AF Athlete's Foot Deodorant Powder Spray. By coming in a spray form, this product is easier to use than a cream, as you do not need to touch the infected skin and possibly cause the fungus to spread. Additionally, when compared to other similar products, as long as you get what you order, this product is cheaper than its competitors.
Unfortunately, we did have concerns with this product. While the main ingredient may help your athlete's foot, it takes four weeks to cure, whereas other products have stronger, faster formulas. Additionally, many customers reported that they had bottles missing from their purchase or that their bottles arrived broken or empty. Lastly, this manufacturer offers no guarantee for its products. For these reasons, we cannot recommend this product to cure your athlete's foot.
Top investigative research brought to you by the experts at Customer Review.