Mycota Powder and Cream Review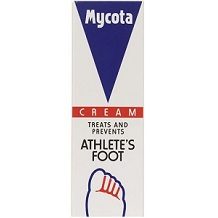 Today we review Mycota Powder and Cream for use in curing your athlete's foot. With both a cream and a powder, this two step process claims to kill the fungus that is causing your athlete's foot. Together, these will have your feet feeling better quicker.
Ingredients
Zinc Undecenoate
Undecenoic Acid
Both the powder and the cream have the same two main ingredients, but have slightly different strengths of the medicines. While they both have Zinc Undecenoate standardized to 20%, the cream has Undecenoic Acid 5% and the powder's is standardized to only 2%. Both of these, however, are much less than the clinically proven standardization of 25% of this acid. With such low amounts, it seems these products will not be as effective.
Dosage
Before applying these products, you should thoroughly wash and dry your feet. Massage the cream into your skin in the morning and at night, paying special attention to the areas between your toes. After applying the cream, lightly dust your feet with the powder to help keep your feet dry. Additionally, you should sprinkle some of the powder into your socks and shoes. It is not stated how long these products take to clear your fungal infection, but you should continue using the products for a full week after it has cleared. To help prevent future infections, you can continue to sprinkle this powder into your socks and shoes everyday.
Possible Side Effects
If you have an allergy to any of the listed ingredients, you should not use this product. Additionally, if you are pregnant or nursing, or if your symptoms continue for a long period of time or get worse, you should consult with a trusted healthcare professional.
Price
When on the manufacturer's website, there is a Buy Now button for both the powder and the cream. Upon clicking this button, you receive a pop-up message stating Mycota and its company cannot be held responsible for anything not on their website, and then directs you to a third party retailer. This seems suspicious that they force you to purchase their product on a different site, but do not take responsibility for what is on those sites. On the third part site, the powder comes in a 70 gram container and costs $5.15 and the cream comes in a 25 gram container for only $3.59.
Guarantee
Not only does this manufacturer not list a money back guarantee or a return policy on their website, but with the statement they made regarding third party sites, it is clear this company does not care about customer satisfaction.
Conclusion of Our Mycota Powder and Cream Review
There are a few things we liked about Mycota Powder and Cream. This two step system offers both the cream to target the athlete's foot and the powder to help prevent it from coming back. Also, this system is extremely cheap when compared to other products to help fungal infections.
We did, however, have many concerns in regards to this product. The ingredients in both products have a standardization much lower than scientific standards. Secondly, it is unclear how long this system is supposed to take until your infection is fully healed. Next, the manufacturer was very suspicious in their message about going to a third party site to purchase their product. Along with that, they offer no guarantee or refund. For these reasons, we cannot recommend these products to help you heal your athlete's foot.
Top investigative research brought to you by the experts at Customer Review.