Nutracraft Hairxcel Hair Growth Support Review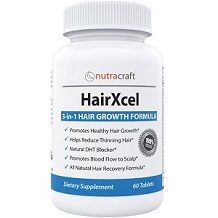 The following is our product review for Nutracraft Hairxcel Hair Growth Support. This is a dietary supplement that the manufacturer claims will prevent breakage, hair loss, hair thinning, and that will enhance the appearance of your hair by strengthening hair follicles. They also claim that this supplement will enhance the healthy appearance of your skin and nails, also provide prostate support. This herbal supplement is suitable for both men and women.
Ingredients
Vitamin A
Vitamin C
Vitamin E
Vitamin B1
Vitamin B2
Vitamin B3
Vitamin B6
Folic Acid
Biotin
Pantothenic Acid
Calcium
Zinc
Copper
Choline Bitartrate
Silica
Inositol
Para-aminobenzoic acid
L-Cysteine
Methylsulfonylmethane
Ginkgo Biloba
Saw Palmetto
Pygeum Africanum
Green Tea
Grape Seed
Saw Palmetto, and Pygeum Africanum help block the hormone DHT that causes 95% of the hair loss in men and women. Biotin, Silica and other vitamins prevent the loss of hair. L-cysteine is an amino acid in hair that creates strong chemical bonds between filaments in the hair. It requires sulfur in order to make these strong bonds. One of the sources of sulfur in the supplement is methylsulfonylmethane. Ginkgo biloba extract improves circulation to the scalp. Other ingredients provide nourishment and antioxidant protection for hair follicles. It is unproven if para-aminobenzoic acid is beneficial in hair growth supplements.
Dosage
Take two tablets daily with a meal. It is not recommended to exceed this dosage. It is not stated at which times of day you should take these pills. The website suggests taking for a minimum of 90 days.
Possible Side Effects
Do not exceed the recommended dose. Consult a physician before using if pregnant or nursing, or for children under 18, and if you have medical condition.
Price
The manufacturer sells a 60 tablet bottle of pills for $35.95. It isn't clear is shipping is included or not because the website says free shipping on all US orders but it also states that free shipping applies to orders over $40. There are no discounts for bulk purchases. New customers can get a variety of special discounts like 50% off or a $20 gift card when entering an email address and spinning the discount wheel. International shipping is also available. It costs a flat fee of $14.95 per order and can take 7-20 business days to arrive.
Guarantee
The manufacturer provides either a 30 day or a 60 day money back policy. This was confusing because both numbers appeared on the website. 30 days on the main screen and 60 days in the FAQ section. It is not specified if the return policy includes opened bottles.
Conclusion of Our Nutracraft Hairxcel Hair Growth Support Review
In summarizing our review, we liked that this product is all-natural, vegetarian and consists of many ingredients that are thought to be able to enhance hair growth. The supplement is produced in an FDA registered facility using Good Manufacturing Practices. There is a guarantee (30 or 60 days depending on where you look on the website). There are various incentives and discounts for new customers if you submit an email address. We did have some less positive comments too however. One bottle of 60 pills costs $35.95 which at 2 pills per day is only enough for one month's supply. The website suggests staying on the supplement for 90 days which makes this product expensive to use especially with no bulk order discount. The length of the guarantee was confusing because the website referred to a 30 day policy and a 60 day policy and it doesn't seem to specify that opened bottles can be returned. The product is not certified as gluten free.
Top investigative research brought to you by the experts at Customer Review.