DasGro Hair Formula Review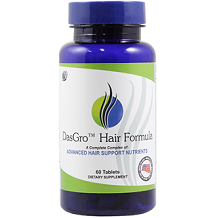 What is DasGro Hair Formula?
DasGro Hair Formula can be taken as a supplement in order to enhance hair growth and to make it stronger and thicker. It contains many vitamins and nutrients to nourish the hair follicles as well as some plant extracts which have beneficial hair growth effects associated with them. We examined the supplement and will discuss its features in order to determine if it is a quality supplement from an honest and trustworthy manufacturer.
Ingredients
Vitamin A
Vitamin C
Vitamin E
Vitamin B1
Vitamin B2
Vitamin B3
Vitamin B6
Folic Acid
Biotin
Pantothenic Acid
Calcium
Zinc
Copper
Choline Bitartrate
Silica
Inositol
Para-aminobenzoic acid
L-Cysteine
Methylsulfonylmethane
Ginkgo Biloba
Pygeum Africanum
Green Tea
Grape Seed
The vitamins (first 10 ingredients) and minerals (next 3 ingredients) were included in this product because they are very important in the production of certain amino acids which are needed to produce hair. If there is a deficiency of them, then there is a deficiency of amino acids which can lead to the formation of brittle and thin hair. L-cysteine is one of those amino acids which is actually very important in hair formation. Methylsulfonylmethane is a source of sulfur which helps to form very strong bonds between microscopic strands of hair.
Saw palmetto extract blocks the hormone that produces the form of testosterone that is responsible for male pattern baldness. Ginkgo biloba increases circulation to the scalp which brings nutrients to the hair follicles. The remainder of the ingredients nourish the hair follicles and provide antioxidants to prevent their damage. There is however little evidence to support the use of para-aminobenzoic acid to improve hair growth.
Dosage
It is recommended to take two tablets daily. One tablet should be taken in the morning with food and water and one in the afternoon, also with food and water. It is not recommended to exceed this daily dosage. All of the vitamins and minerals seem to be within good ranges of their recommended daily value.
What is the Cost?
There are a number of pricing options for this manufacturer. One package of 60 tablets will cost $39.97. Three packages of 60 tablets each will cost $94.97. Six packages can be purchased for $147.97. Buying three or six packages grants a customer free shipping.
Manufacturer's Guarantee
This manufacturer offers a 90 day money back guarantee which refunds the full price of the purchase and shipping. This guarantee does include used and opened products. Naturally, there is only one refund allowed per person or household.
Our Final Review of DasGro Hair Formula
This supplement is offered at a reasonable price with various pricing options which gives the customer a chance to score a discount. Most of the ingredients in the supplement are well considered too. There are some ingredients with little scientific evidence to support their use though. In terms of guaranteed effectiveness, we believe all ingredients should be well researched and some information presented to the customer in the manufacturer's description of the product, which unfortunately this manufacturer does not. We therefore cannot conclude that the supplement will be effective.
Top investigative research brought to you by the experts at Customer Review.