Provia with Biotin Review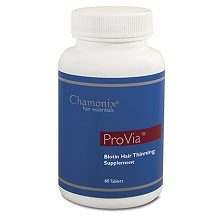 Hair loss and thinning is a problem that quite a few men and women will experience in their life. That's why, when we began to write this Provia with Biotin review, we wanted to ensure that it truly did as it seemed to claim: Promote hair regrowth naturally and noticeably.
Ingredients
There is only one ingredient found in ProVia with Biotin: 1000mcg of biotin. This ingredient, also known as Vitamin B7, is fairly popular when it comes to hair thinning supplements. This is because it is one of the most important nutrients when it comes to a healthy metabolism, nervous system, digestive system, and cardiovascular system – all of which are required to grow a healthy head of hair. This has been shown to work before, so there is no reason that it shouldn't work here.
Dosage
This is one of the major downsides of this particular brand of biotin supplements, the website is woefully incomplete. This includes any information about the dosage that you should be taking, how often you should be taking it, or whether there are any other special instructions (such as to take with a meal, with a full glass of water, or the like). We were only able to find that this product provides a daily serving of 1,000 mg of biotin.
Possible Side Effects
As with the dosage, the website has nothing to add when it comes to side effects that you might experience when taking ProVia with Biotin. This is certainly problematic, as you don't know what might warrant a problem that you should seek medical treatment for. You also won't know how this product might react to any medication or supplements you are currently taking. Pregnant and breastfeeding women should use caution, because it isn't stated whether this could be harmful to your fetus or child.
Price
Price is one of the few bits of information that you can find on the website selling this product. There are two different options to choose from. The cheapest you can buy ProVia with Biotin is for $14.95. This will get you a single bottle containing 60 tablets. If you'd prefer to buy in bulk and save a bit of money doing so, you can choose an option where you pay $29.90. This will get you two bottles, as well as a third one for free.
Guarantee
There is a 100% money back guarantee on any refundable orders. In order to be eligible for this guarantee, you must return the product for a refund or exchange within four months of the date of the original order. Exchanges are extended to six months from the original date of purchase. Items bought on sale or as part of any promotion may not be eligible for return. Shipping and handling fees are not refundable, and the customer must pay to ship the product back to the manufacturer.
Conclusion of Our ProVia with Biotin Review
The best thing that we can say, after completing this review of ProVia with Biotin, is that Biotin does, indeed, seem to promote hair regrowth and stop thinning hair. We can also say that they do have a money-back guarantee, even if it is a bit flawed. That's where the complimentary facts end. There is little to no information available on their website about their products, much to the detriment of anyone who purchases them. For the price paid, they should be clearer about the dosage, as well as any side effects it might have. We believe there are better products available on the market.
Top investigative research brought to you by the experts at Customer Review.