Women's Rogaine Hair Regrowth Treatment Review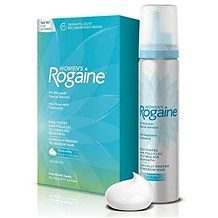 This is a review for Women's Rogaine Hair Regrowth Treatment, a topical foam which is designed to help women regrow hair and deliver results within 12 weeks by stimulating the hair follicle at the root. It claims to be the most effective topical over-the-counter treatment for hair regrowth available.
Ingredients
The main active ingredient in this product is 5% minoxidil. It is a known vasodilator, and also promotes hair growth while slowing loss. It does this by supporting and activating existing hair follicles and also encouraging resumed activity in inactive hair follicles. There is also a list of inactive ingredients found in this product including:
Cetyl alcohol
Butane
Butylated hydroxytoluene
Glycerol Anhydrous
Lactic Acid
Polysorbate 60
Propane
Purified water
SD Alcohol 40-B
Stearyl Alcohol
These other ingredients add other benefits like moisture, gentle exfoliation, and other cosmetic purposes to make the liquid ingredients into the foam.  None of these ingredients are certified organic, or non-GMO.
Dosage
For best results, use on clean, towel-dried hair. Gently massage 1/2 a capful of the product directly onto the scalp, over the affected area. Let the product air dry before continuing with your styling routine. Consistency is key when using the product, as stopping use will cause hair loss to resume. Wash your hands very well after applying this product.
Possible Side Effects
There is a list of precautions for this product on the manufacturer's website. This product is extremely flammable, so do not smoke during application or soon after. The possible side effects include burning, stinging, or redness of the scalp, unwanted facial hair growth, dizziness, fast or irregular heartbeat, fainting, chest pain, and swelling of the hands and feet. If you suffer from eczema, heart problems, kidney, or liver disease, it is recommended to consult your doctor or healthcare provider before using this treatment.
Price
This product is available for purchase in-store and online from large retailers like Walgreens, Target, CVS, Rite-Aid, and through Amazon. A two-month supply is available for $29.99 directly from the manufacturer. By buying directly from the manufacturer, you will be signing up to an auto-renew program. The manufacturer also offers bulk purchasing options, with 4 and 6-month supplies costing $49.99 and $59.99 respectively.
Product Guarantee
If you are not satisfied with using Rogaine after a minimum of 120 consecutive days, you can receive a full refund for your purchase of up to $94.00. Customer reviews are positive, with continued use leading to a sustained improvement both in the quality and number of hair follicles.
Conclusion of Our Women's Rogaine Hair Regrowth Treatment Review
The active ingredient in women's Rogaine is proven to be an effective tool to increase hair growth and the number of active hair follicles, especially with continued use. The ease of use and positive reviews mean that this product can be easily introduced to your existing routine. However, these ingredients are not natural and carry the risk of some serious side effects. There are other, more natural products available on the market that offer hair growth benefits, without all the risks associated with this product.
Top investigative research brought to you by the experts at Customer Review.