Hair La Vie Revitalizing Hair Blend Review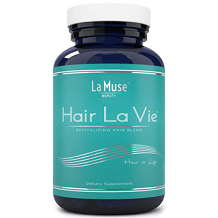 Every day many people suffer hair loss, thinning of hair, lack of hair growth, and lack of shiny hair. This affects their self-confidence forcing them to do a search to find a hair growth and rejuvenating supplement which will help them regain and maintain beautiful and shiny hair. During your search, you may stumble on different hair supplements. We came across one hair growth product by Hair La Vie. This product contains over 20 ingredients, which work through a 3-step process to make your hair healthy, shiny and thick. First, the supplement cleans and hydrates your scalp thus eliminating dead and dried skin paving the way for the growth of new hair. Secondly, the antioxidants in the supplement repair your hair follicles. Lastly, the nutrients accelerate the growth of hair faster and make the strands thicker. For more factual information read our whole Hair La Vie review.
Ingredients
Biotin – produces keratin, enhances the growth and elasticity of existing hair.
Vitamin A – a natural antioxidant that helps regulate skin cells.
Vitamin K – promotes blood clotting. Its function also benefits hair and skin.
Pantothenic Acid – helps to keep hair follicles clear of debris from the skin.
Methylsulfonylmethane (MSM) – component of collagen and keratin. Collagen keeps the skin looking supple, while keratin maintains healthy hair and nails.
Flax seed oil – contains omega-3 fatty acids that regulate the production of sebum oil on the scalp and enhances water retention thus moisturizing the scalp. This helps to maintain healthy hair follicles.
B-Complex vitamins – nourishes hair follicles.
Kelp – supports the hair follicle by regulating its resting time and promoting follicle activity.
Folic Acid – helps to revitalize cells that aid in the assistance of existing hair growth.
Borage Oil Powder – promotes existing hair growth.
Zinc – helps to maintain oil-secreting glands and supports the strength of existing hair.
Vitamin E – Encourages healthy blood circulation in the scalp.
Iron – helps to transport oxygen throughout the body that maintains healthy cells, skin, hair and nails.
Bamboo stem and leaf extract – contains silica that promotes calcium assimilation in the body, to support strong bones and teeth.
Horsetail – rich in silica, an important component of collagen that assists the vitality of connective tissues.
Hydrolyzed collagen – supports skin cell reproduction and blood flow.
Dosage
You should take 2 capsules daily with meals – one in the morning and one in the evening.
Possible Side Effects
The manufacturer has not indicated any side effects associated with this product. However, Hair La Vie being a vitamin hair supplement, you might experience the following side effects linked to many hair supplements such as bloating and gas, stomachache, constipation, and diarrhea.
Price
The current online purchase price from the manufacturer's official website is a follows:
1 bottle (30-day supply): $48.00 + $5.95 shipping.
3 bottles (90-day supply): $41.33 each (124.00) + free shipping.
6 bottles (180-day supply): $36.50 each (219.00) + free shipping.
Guarantee
Hair La Vie comes with an unconditional 90-day 100% money-back guarantee to make customers feel confident and secure when buying this product. Unsatisfied customers have a 3-month risk-free offer to return any opened or unopened product for a full refund. Only one refund per household per year is allowed.
Conclusion of Our Hair La Vie Review
Positive customer reviews is an indication that Hair La Vie might be working. It is also encouraging for the company to offer a 3-month risk-free money back guarantee to cater for customers who might be unsatisfied with the product. The downside of this product is that it takes long to realize the results. Besides, the strong scent of capsules is not favorable to people with sensitive smell. The price is also quite high for this product, even with the bulk package discounts.
Top investigative research brought to you by the experts at Customer Review.