Keranique Hair Regrowth Treatment Review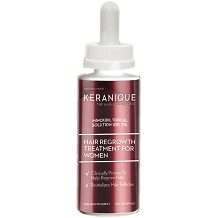 Read our review for the Hair Regrowth Treatment by Keranique that aims to regrow abundant, luxuriant hair. This product is designed specifically for women to help with hair thinning. It claims to contain ingredients that are proven to help hair regrow, helping you to maintain hair that looks thick and healthy.
Ingredients
Minoxidil 2%
Alcohol
Propyleneglycol
Purified Water
Minoxidil has been shown to be very effective in stimulating hair growth.  Minoxidil works by stretching the Anagen phase of hair cells, which is the crucial phase for growth in hair. Propylene glycol is a synthetic substance that absorbs water and maintains moisture in products such as those targeted for hair improvement.  Two ingredients that are usually beneficial in hair growth products, but are are missing from the Keranique formulation are amino acids and keratin. Amino acids build red blood cells, which can transport nutrients to hair-producing follicles.  Keratin works by restoring damaged follicles.  Keratin and amino acids contribute to nutrient-rich hair. Nutrient rich hair makes for healthy hair.
Dosage
To use effectively, it is recommended to squeeze 1ml of the solution with a dropper twice a day. This should be applied directly to the scalp onto the affected area. You must wash hands after use.
Possible Side Effects
This product is not for use on babies and children and may be harmful when pregnant or breastfeeding. If you have heart disease, it is also advised to ask a doctor before using this product. Some possible side effects include chest pain, rapid heartbeat, faintness, or sudden dizziness, unexplained weight gain in the hands and feet, scalp irritation or redness, and unwanted facial hair. If you experience any of these side effects, you should stop using the product and contact your doctor.
Price
It seems that this product can only be bought directly from the manufacturer's website as part of a package consisting of other hair growth products. The total cost for this package is $49.95, which is on sale from $115. This package consists of the Hair Regrowth Treatment, a shampoo, a conditioner, a treatment spray, a hair detangling tool and a volumizing brush. If you purchase this product online through the manufacturer, you will be signing up for automatic delivery. This means the product will be automatically shipped to you every month and you will automatically be charged, unless you cancel your order.
Guarantee
If you are not satisfied with this product you can can return it within 120 days from the date of purchase, and get a full refund of the purchase price, less shipping and handling. Even on the occasion that the products were used and emptied, the guarantee still applies. You will need to contact customer service to get instructions on how to return the product.
Conclusion of Our Keranique Hair Regrowth Treatment Review
Keranique's Hair Regrowth system has some redeemable qualities.  The FDA has approved its main ingredient, Minoxidil, for the treatment of hair loss. Additionally, this product comes with a solid guarantee. On the other hand, it has been shown that products with these ingredients require between one to two treatments daily and up to three months before significant results manifest, which is an expenditure of both time and patience. Because of the nature of this product, there appears to be the possibility for side effects to emerge. Furthermore, there are a large number of negative customer reviews for this product. These customer reviews are often stinging and range from complaints that hair growth has not been achieved after many months to outright warnings about its safety.
Top investigative research brought to you by the experts at Customer Review.