Brock Beauty Hairfinity Hair Vitamins Review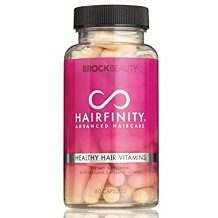 Hairfinity Hair Vitamins is a nutritional supplement for those interested in growing healthier hair. It is a formulation of vitamins and amino acids which, the manufacturer says, are needed for robust hair follicles and scalp blood circulation, among other things. The product is said to supply vital vitamins and nutrients that your diet does not provide and to work "from the inside out". Sound like something you might find useful? Read on for details in our Hairfinity Hair Vitamins review.
Ingredients
The Hairfinity Hair Vitamins formula blends the following ingredients to deliver promised benefits:
Biotin – 2,500 mcg
Calcium – 217 mg
Folic acid – 200 mcg
Pantothenic acid – 100 mg
Vitamin A – 8,150 IU
Vitamin B1 – 5 mg
Vitamin B2 – 5 mg
Vitamin B3 – 5 mg
Vitamin B6 – 5 mg
Vitamin B12 – 20 mcg
Vitamin C – 100 mg
Vitamin D3 – 100 IU
And there is the proprietary Capilsana complex blend which features:
Hydrolyzed collagen
Silica
Essential amino acids
Horsetail
Biotin protects your hair against dryness while also promoting hair growth and elasticity of the hair cortex. Vitamin A helps to boost sebum production in the scalp, while vitamin D guards against hair loss. Vitamin B12 facilitates production of resilient red blood cells and transportation of oxygen to your scalp and follicles. Sulfur from MSM promotes healthy collagen and keratin, while silica keeps your hair lustrous and ensures elasticity.
Dosage
The recommended dosage of Hairfinity Hair Vitamins is two capsules a day with lots of water.
Possible Side Effects
While this is a natural product, some customers have supposedly reported side effects such as:
• Upset stomach
• Headaches
• Rashes
• Acne breakouts
There is also the possibility of hair growing faster in parts of your body where you may not want that.
You should consult with your doctor if you have underlying medical conditions or are taking prescription drugs before starting to use this or any other supplement. There is possibility of overdose if you decide to take Hairfinity Hair Vitamins with another multivitamin product.
Price
A bottle of this supplement containing 60 capsules sells for about $25.00 when you buy directly from the manufacturer. You enjoy free shipping on your orders above $100, but there appears to be no discounts on offer. At the time of this review you could also purchase a package of two bottles (120 capsules) on Amazon for $47.99.
Guarantee
There is a 30-day money back guarantee, just in case you are not satisfied with results. You will have to call the company's customer service number to request a refund. Shipping and handling charges will be deducted from your refund.
Conclusion of Our Hairfinity Hair Vitamins Review
You can buy this product with the expectation that it will help produce healthier hair. An unusually large number of Amazon customers (over 4,000 at the time of writing) rated it and among them 75% gave it a positive score with only 15% scoring it negatively. Hairfinity Hair Vitamins comes with ingredients that sound promising for fighting hair loss and promoting hair growth. The manufacturer also cited clinical results to back efficacy. However, some people complained of adverse reactions from using this product. There is also no indication as to how long you may need to use it before seeing results. It may be worth a try but you should be prepared to spend $25 a month for an indeterminate amount of time.
Top investigative research brought to you by the experts at Customer Review.