Men's Rogaine Unscented Foam Review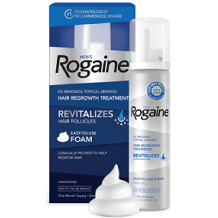 Rogaine is a product you are likely to be recommended if you consult a professional for hair loss help. The product occupies a special place among products used for a similar purpose. Its main active ingredient has been proven to stimulate hair follicles and promote growth. The product is a favorite among dermatologists in the United States for clients with hair loss issues. It claims to be the first of its kind to be approved by the FDA. Continue reading our Rogaine review to determine if it is the perfect remedy you are after.
Ingredients
The main active ingredient in men's Rogaine is minoxidil. The other ingredients in the topical hair loss remedy include:
Butane
Butylated hydroxytoluene
Cetyl alcohol
Glycerin
Isobutane
Lactic acid
Polysorbate 60
Propane
Purified water
SD alcohol 40-B
Stearyl alcohol
Minoxidil, which was originally used as an oral treatment for high blood pressure, is a vasodilator. Used here as a topical substance, it dilates (or widens) the blood vessels to enhance the absorption of nutrients to hair follicles. It boosts hair follicle function as a result and promotes hair growth. Rogaine foam contains a 5% concentration of minoxidil.
Dosage
Typically, Rogaine is applied two times a day, preferably in the morning and night. It is recommended to apply half a capful of foam each time, directly to the affected hair loss area. Then you should massage into the scalp using your fingers, and then wash well. The manufacturer advises reading the instructions that come with the product for clearer directions.
Possible Side Effects
The manufacturer lists quite a few precautions for this product on their website. This product should not be used on women and if your scalp is red, inflamed, irritated or itchy. You should stop using this product if you have any chest pain, rapid heartbeat, faintness, unexplained weight gain, swelling of the hands and feet, unwanted facial hair. You should also stop using the product if you don't see any hair regrowth within four months.
Price
This product is available for purchase online through the manufacturer's website. The manufacturer offers different package options for this product, however, all their purchasing options require signing up for auto-delivery. Their one-month supply will cost $29.99. The three-month, four-month, and six-month supplies will cost $49.99, $59.99, and $84.99 respectively. It si also possible to buy a one-year supply for a total cost of $159.99.
Guarantee
The manufacturer offers a 30-day money back guarantee. However, you can only return unused product to qualify for a refund. The manufacturer's website states that you may only see results within 4 months, so this hardly seems like enough time to try out the product.
Conclusion of Our Men's Rogaine Review
This is a very popular product for overcoming hair loss and promoting hair growth. It uses an FDA-approved ingredient known to be highly effective. It can be easily bought in many pharmacies and online without any prescription. But if you are the type that like all-natural remedies, you may be disappointed that this is not one. Efficacy varies and you may experience certain side effects from use. While this is a good product, you may still find cheaper, safer and more effective alternatives out there.
Top investigative research brought to you by the experts at Customer Review.