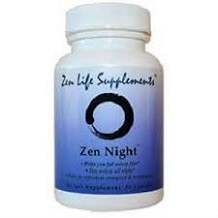 Zen Night is an herbal dietary supplement that claims to help you fall asleep fast and stay asleep for the entire night. It also claims that because the supplement is all-natural, users can wake up feeling refreshed and full of energy.  The natural ingredients in the Zen Night, which was formulated by a Ph.D. helps minimize anxiety, worry and racing thoughts, in order to help you fall asleep at night.
The supplement comes in a plastic bottle and the logo is a simple painted O with the name "Zen Life Supplements".
Ingredients
Zen Night contains 10 main ingredients:
Vitamin B6 – helps improve functioning of your nervous system.
Valerian Extract – helps you fall asleep.
Gamma Aminobutyric Acid – helps increase alpha brainwaves which are associated with relaxation and meditation.
Passion Flower Extract – can help ease muscle tension and induces a calming effect.
L-Tryptophan – is the same ingredient in Turkey that makes you feel drowsy. It is also responsible for feelings of happiness and positivene well being.
Chamomile Extract– has been used for thousands of years as a relaxer and sleep aid.
Hops flower powder
5-HTP – is an amino acid that is related to tryptophan. It is precursor to melatonin and serotonin. They boost your mood and help you fall asleep.
Melatonin – a natural hormone released by your body at night and is responsible for helping you sleep.
Dosage
Zen Night should be taken approximately 30 minutes before you plan on going to bed.  The gelatin capsule will then dissolved allowing the 10 ingredients work together to help you fall asleep.
AnxiClear suggest taking two capsules of their day time formula in the morning and one of the evening formulas at night time.
Side Effects
Because Zen Night is made up of all natural ingredients there are no known side effects. People who may be allergic to any of the ingredients should consult with their physician first before taking this supplement.
Will This Product Produce Long-Term Results?
Zen Night claims that if taken regularly before bedtime that it can help a user fall asleep faster, stay asleep, and wake up feeling refreshed.
Price
Zen Night comes in three packages; Gold, Silver and Bronze.
The Bronze package includes one bottle of Zen Night and no subscription. It costs $44.95
The Silver package is a monthly subscription which ships one bottle every month with a cost of $34.95 per bottle.
The Gold Package contains three bottles for the price of $29.99 each and will supply you for 90 days.
Guarantee
Zen Night does offer a 100% money back guarantee. Even if the product is opened and used completely, they will issue a refund within the first 90 days.
Conclusion – Zen Night Review
While Zen Night appears to be a good product, the cost can be a little high. Even though the monthly subscription Bronze packaged and the multiple bottle Gold package do reduce the cost per bottle, it may be more product than what you will need.
Top investigative research brought to you by the experts at Customer Review.