Herbal Max Anxiety Relief Review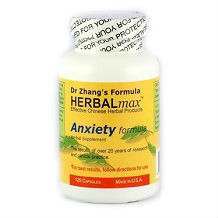 HerbalMax is a unique mix of Chinese herbs that assists in easing ongoing anxiety and feelings of disturbance. It encourages feelings of peace and serenity. Within a few days of beginning to take HerbalMax, you should begin to see lasting improvement. This supplement, referred to as the Anxiety Formula, is meant to provide lasting help for those struggling with ongoing feelings of anxiousness, stress, anxiety, social fears, and being unable to sleep.
Ingredients
This supplement from HerbalMax is made up of the following ingredients:
Schisandra Chinensis: This fruit is utilized to build defiance against stressfulness and other diseases. It assists in raising energy levels as well as bettering athletic performance and stamina.
Paeonia Lactiflora: This flower is harvested for its abilities to reduce fever, treat burns, sores, eczema, headaches, muscle spasms, and boils.
Bupleurum Chinense: This root hails from Asia and is commonly used to heal infections accompanied by fever, stagnation of the liver, liver disease, hemorrhoids, irritability, and indigestion.
Curcuma Longa: This healing herb is utilized as an antioxidant that treats cancer, Alzheimer's, blood thinning, diabetes, and arthritis.
Ziziphus Jujuba: The seeds of this fruit are supposedly used medicinally in China to relieve stress, heal inflammation and ulcers, fight infertility, and heal wounds. It is also known for it's sedative properties.
Codonopsis Pilosula: This herb is usually used to help increase appetite and improve energy levels.
Paeonia Suffuticosa: This plant is used to treat nosebleeds, irritability, ulcers, boils, fevers, and menstrual disorders.
Dosage
This supplement breaks up the advised dosages into two separate sections—adults and children over thirteen, and children twelve and under. For children over thirteen as well as adults, the beginning dose should be three supplements taken three times each day. Once symptoms have drastically improved, you can take three supplements only twice every day. It is recommended to consume these before eating.
For Children under thirteen years of age, the advised doses are:
Ages 2-8: One supplement taken twice a day, every day. Once symptoms have improved, only one supplement a day is needed.
Ages 9-12: Two supplements taken three times daily. Once symptoms have improved, two supplements a day should suffice.
Price
One bottle of Anxiety Formula contains one hundred and twenty capsules. The price per bottle is $39.99, which makes each capsule cost about $0.33. Since an adult dose is about nine supplements every day, the daily cost could be $2.97 each day. It would take two entire bottles to consume the product for a month straight.
Guarantee
HerbalMax has a month-long return policy. However, that policy does not include an option to get your money back with no questions asked. Additionally, they maintain the right to deny a customer a refund based upon product damage—including an opened product. They only accept returns on unopened products. This means that if you try out Anxiety Formula and are not pleased with the way it works, you cannot be refunded.
Conclusion of Herbal Max Anxiety Relief Review
This product has no FDA inspection under it's many good qualities and it would boost it's authenticity if it did.
Top investigative research brought to you by the experts at Customer Review.