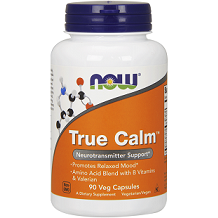 This is our review of Now True Calm. It is made up of amino acids and nutrients to support the production and function of the neurotransmitters in the brain. It contains GABA, glycine, and Taurine, which are all amino acids that have calming properties. Continue reading for our full review.
Ingredients
Niacin – 45 mg
Vitamin B6 – 8mg
Magnesium – 6.5 mg
GABA (Gamma-Aminobutyric Acid) – 200 mg
Glycine – 200 mg
Taurine – 200 mg
Inositol – 100 mg
Valerian – 25 mg
Other Ingredients:  Cellulose (capsule) and Magnesium Stearate (vegetable source).
This product was not manufactured with wheat, gluten, soy, milk, egg, fish, shellfish or tree nut ingredients. But, it was produced in a GMP facility that processes other ingredients containing these allergens.
The ingredients GABA and glycine are meant to promote a relaxed state and Taurine is also meant to calm you down. Valerian has sedative properties that should help with reducing anxiety and help you sleep.
Dosage
It is recommended to take 1 capsule 1-3 times a day, preferably on an empty stomach or just before meals.
Possible Side Effects
This product is for adults only. Do not take this product before driving or operating machinery since it may reduce your ability to do so. Speak to your doctor before taking if you are pregnant, nursing, taking medication, or have a medical condition. Some side effects that we found in our research include headaches, insomnia, and excessive drowsiness.
Price
Now True Calm is sold for $15.99 for 90 capsules. This will last you 1-3 months depending on your dosage. This is a very affordable price.
Guarantee
We were unable to find any customer guarantee for this product in our research. There were plenty of positive and negative reviews for this product. Some customers felt that this product really helped with their stress and anxiety while others felt it had no effect on them, caused headaches, and even itching.
Conclusion of Our Now True Calm Review
There are a couple of positive things about Now True Calm. It's sold for a pretty fair price, especially if the bottle lasts you 3 months. That's a great deal, if it works. Another thing that was reassuring to us were all the customers that benefited from taking these capsules. Some customers feel that it has changed their lives for the better because of how it has helped with their anxiety. There are a couple of things we didn't like though. There is no guarantee mentioned for this product. We ave gathered that the return policy would be based on the seller you use, but we would have liked to see a guarantee somewhere on the manufacturer's website just to show they are confident in their product's effectiveness. There were also plenty of customers that didn't think the capsules were effective. One customer said that the effects seem to get less and less noticeable the longer they were taking it. Another customer said it started causing them to feel nauseous and didn't help with their sleep at all. We feel that you will have better luck with something else.
Top investigative research brought to you by the experts at Customer Review.