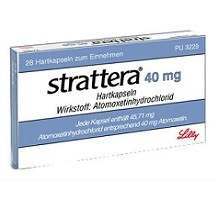 Strattera is the only prescription non-stimulant medication approved for the treatment of ADHD in adults. The medication claims to help improve attentiveness while decreasing hyperactivity and impulsivity. The medication does not worsen anxiety. Because Strattera is a non-stimulant medication it lacks the potential for dependence and abuse.
Ingredients
Atomoxetine HCl is the main ingredient in Strattera. The capsules also contain two other ingredients, pre-gelatinized starch and dimethicone. The capsule shells are made up of gelatin, sodium lauryl sulfate. Coloring ingredients are also used; FD&C #2, synthetic yellow iron oxide, titanium dioxide, red iron oxide. The capsules are also imprinted with edible black ink.
Dosage
Strattera works gradually so you may not see any improvements right away. It may take a full 4-6 weeks before any significant improvements are noticeable. It is suggested that Strattera be taken twice a day at the same time every day with several dose increases until the target dose of 80 mg per day is reached.
With AnxiClear, you will only need two capsules in the morning and one in the evening of the nighttime formula.
Side Effects
Strattera has a small list of possible side effects. While the list is less than some other prescription medications, these side effects may not be tolerable for some people.
Constipation
dry mouth
nausea
decreased appetite
dizziness
sexual side effects
problems passing urine.
Adults who experience nausea may have to split their dosages and take the medication at lower milligrams several times throughout the day to help alleviate the nausea.
Will This Product Produce Long-Term Results?
Since symptoms of ADHD don't typically improve until the 4-6 week mark after starting Strattera, it is considered a long-term use medication. The medication indicates that it will help control the symptoms of attention deficit disorder which affects adults and children all year long.
Price
Strattera is a moderately priced medication with a 30 day supply at low doses costing approximately $112. Higher doses are priced around $184 for a 30 day supply.  You may be able to find better deals at different pharmacies.
Strattera does offer a 30-day free offer. The first month's prescription is free and subsequent prescriptions may cost as little as $25 per month.
Guarantee
Since Strattera is a prescription medication it does not have a guarantee. However, users of the medication can report any adverse symptoms they believe may be related to the medication, directly to the FDA.
Conclusion – Strattera Review
Strattera is quite cheap in comparison to other prescription medications. The patient savings card helps make the medication even more affordable. However, there are still concerning side effects and the amount of time it takes to begin feeling improvements are not ideal.
Top investigative research brought to you by the experts at Customer Review.