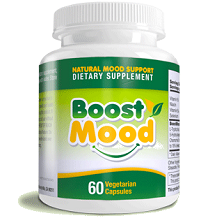 BoostMood capsules are all-natural herb and amino acid-based in substance. They are intended to relieve the symptoms of low-level depression and angst. This is an in-depth review to discuss the synthesis of ingredients used, and how much benefit this supplement is likely to provide. Anxiety is a common ailment in modern society – very few people are exempt from persistent worry. This is often due to finances, work or relationships.
The main proteins in BoostMood regulate the balance of the all-important niacin and serotonin levels in the brain. These help you stay strong, productive, alert, feeling calm and disease-free when faced with ongoing situations that could cause anxiousness and irritability. Specifically, BoostMood is formulated to help build up resilience in the face of worry, insomnia, fatigue, lack of focus, emotional sensitivity, mood swinging, fear, feelings of isolation and other symptoms are associated with anxiety.
Vitamin B3 or niacin helps elevate your mood and is similar to the good feelings brought on by exercise. It also lowers cholesterol, improves brain functioning and increases energy levels. Serotonin is an important neurotransmitter. The essential amino acid, tryptophan, is used to produce serotonin. Low levels of serotonin are associated with depression and angst. It is therefore important that niacin and serotonin levels are in balance in the body, which is what this product purports to achieve.
Ingredients
Ashwagandha
DMAE Bitartrate
GABA
Vitamin B12
Calcium
Chamomile Extract (blossom)
Folic Acid
Vitamin B2
Vitamin B1
Chamomile brings about a calm and relaxed state. Ashwagandha reduces stress and renews vitality. DMAE Bitartrate is a nootropic that supercharges brain functioning. GABA is a neurotransmitter that reduces both anxiousness and insomnia by calming nerves, while Vitamin B12 is integral to both healthy brain and immune system functioning. Calcium is of course integral to strong bone formation, and a lack of it causes muscle pain and cramps – a common symptom of anxiety.
It is clear that the BoostMood formula is well thought-out to address key health issues associated with moderate, persistent worry and anxiety. In this review, we must note that the specific inclusion of a nootropic is quite merit-worthy. This is likely to counter lethargy, which could result from being helped to feel calm.
The synthesis does lack probiotics. It also lacks lemon balm and a handful of ingredients normally included in a product of this nature. These work well to reduce stress and anxiety.
BoostMood is non-addictive and the manufacturer promises a significant easing of symptoms within 7 days.
Dosage
Take 2 capsules once a day with water, preferably half an hour before meals.
Possible Side Effects
Boost Mood is safe to take with other medication, but always clear this first with your medical practitioner. Also get clearance if you are pregnant, breastfeeding or have a history of heart conditions.
We must mention in this BoostMood review that those sensitive to DMAE Bitartrate can be overly stimulated by this nootropic. High amounts of it can also cause insomnia, vivid dreams, constipation, urticaria, depression, headache, drowsiness, higher blood pressure and some other side effects. Unfortunately the exact amounts of each ingredient in the proprietary blend are not stated.
Price
You can buy a bottle of 60 vegetable capsules for $39.99 on Amazon and for $0.05 cheaper on the website. This is a one-month's supply. It is fairly expensive compared to similar products. A $60 and $120 discount applies if you purchase 180 and 360 pack bottles on the website respectively.
Guarantee
You can return your first bottle for a money-back guarantee within 500 days if you are not happy with the product. This is an extensive guarantee window period.
Conclusion of our BoostMood Review
BoostMood seems to be a good synthesis of very particular ingredients. While it may not help with the severest forms of anxiety and depression, it should ease the symptoms of mild to moderate stress and anxiety. The inclusion of a nootropic is quite novel. The purchase is risk-free thanks to the guarantee, which is a plus.
It would have been helpful if the percentages of each ingredient were disclosed so as to better predict how well the product would work. It receives above-average reviews. Negative reviews tend to be from severe depression sufferers, who report increased low mood levels and angst. This is probably due to sensitivity to DMAE Bitartrate.
Top investigative research brought to you by the experts at Customer Review.