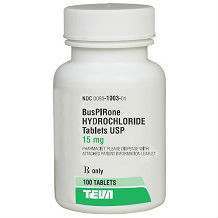 Buspirone is a prescription medication used to treat the symptoms of anxiety. It is believed that buspirone works differently than other medications in its class, but researchers do not know how it works exactly. Researchers believe if affects serotonin and dopamine, which are chemical messengers in the brain that cause anxiety symptoms.
Buspirone claims to help patients feel less jittery and irritable. It may help with other symptoms such as sleep trouble and sweating associated with anxiety.
Ingredients
The main ingredient is buspirone hydrochloride. It is a white crystalline water soluble powder.  The tablets also contain inactive ingredients: colloidal silicon dioxide, lactose, magnesium stearate, microcrystalline cellulose, and sodium starch glycolate. The 30 mg tablet also contains iron oxide.  Patients who have lactose intolerance may be advised by their medical professional to avoid this medication.
Dosage
Buspirone is available in tablets of 5 mg, 10 mg, 15 mg, or 30 mg. Patients typically start the medication by taking 7.5 mg every 12 hours. Doctors may increase the medication by 5 mg every few days and do not recommend taking more than 60 mg in a 24 hour period. It is suggested that the full daily dose be split and taken at regular intervals throughout the day so that the medication is maintained in the body.
With AnxiClear, you will only need two capsules in the morning and one in the evening of the nighttime formula.
Side Effects
Buspirone does present a moderate list of possible side effects which include:
Nausea
Headache
Dizziness
Nervousness
Lightheadedness
Excitement
Less common side effects include:
Constipation
Diarrhea
Upset stomach
Dry mouth
Depression
Fatigue
Trouble sleeping
Weakness
Numbness
Buspirone also interacts with other medications, unlike AnxiClear which has no known side effects or medication interactions.
Will This Product Produce Long-Term Results?
Buspirone is not designed to treat the stresses of everyday life, but for long term anxiety disorder. Anxiety disorder is defined by patients presenting symptoms of anxiety for longer than one month.
Buspirone is indicated as working in the short term capacity to treat the symptoms of anxiety.
Price
Buspirone is one of the lower cost prescription medications available. Patients on low doses of the medication can purchase it for just over $30 for 90 pills.
Guarantee
Since buspirone is a prescription medication it does not have a guarantee. However, users of the medication can report any adverse symptoms they believe may be related to the medication, directly to the FDA.
Conclusion of Buspirone Review
Buspirone is one of the more affordable prescription medications available for treating anxiety and its associated symptoms. However, like with most prescription medication, the side effects can be concerning. Also the dosing schedules needed to get the best results from the medication may be inconvenient to the patient.
Top investigative research brought to you by the experts at Customer Review.