Natural Vitality Natural Calm Review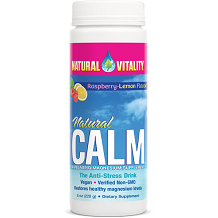 This is our review of Natural Vitality Natural Calm. This product claims to promote healthy magnesium levels and balance calcium intake. It should help you feel more relaxed and less stressed. Calcium makes muscles contract and is needed for blood clotting while magnesium allows muscles to relax and keeps the blood flowing freely. When your body has the right amount of these vitamins, it knows exactly how to maintain the correct balance, but when it doesn't, Natural Calm could help. Continue reading for our full review.
Ingredients
This product is vegan, gluten- free, dairy-free, and soy-free. It contains no sugar, fructose, starch, preservatives, or artificial color or flavor.
This ingredient is meant to help with stress, fatigue, inability to sleep, muscle tension, anxiousness, nervousness, irritability, headaches, weakening bones, abnormal heart rhythm, and constipation.
Dosage
It is recommended to place 2 teaspoons of powder in a glass or mug and add 2–3 oz of hot water. Let it fizz, then stir until dissolved. Fill with warm or cold water and enjoy. You can also simply add it to a glass or bottle of cold water.
Possible Side Effects
There are no possible side effects listed on the manufacturers website. During our research we found that it may be dangerous for someone with kidney disease, heart disease, or a gastrointestinal disorder to take this product. Symptoms of an overdose of magnesium may include diarrhea, nausea, vomiting, lethargy, muscle weakness, irregular heartbeat, low blood pressure, urine retention, respiratory distress, or cardiac arrest.
Price
Natural Vitality Natural Calm comes if 4 different flavor options. The 16 ounce bottle is sold for $40.95. The unflavored 16 ounce bottle costs $39.95. The 8 ounce bottles are sold for $23.95 each. We were able to find the 16 ounce bottle sold for $24.57 on another seller's website. It is much more expensive if you buy from the manufacturers site.
Guarantee
The manufacturer says that they are fully committed to their customers and back their products 100%. They will exchange or provide a full refund for any of their products within 30 days of purchase. Damaged and/or incorrect shipments should be reported within 30 days of receipt. Credits and returns for products purchased more than 30 days prior will be given at the discretion of our Customer Service Department. It is unclear if the product needs to be unopened and unused to be eligible for a full refund.
Conclusion of Our Natural Vitality Natural Calm Review
There are a couple of positive things about Natural Vitality Natural Calm. It has a customer guarantee that shows the manufacturers confidence in the product's effectiveness and instills that same confidence in the customer. There were also plenty of positive reviews for this product. Customers were thrilled by the results and felt this product made their lives better. There are a couple of things we didn't like though. This product is very expensive, especially since you don't know how effective it will be and are supposed to take it daily. A few customers said that it wasn't as effective as other products they have tried. We feel that you will be able to find a more affordable and effective product elsewhere.
Top investigative research brought to you by the experts at Customer Review.