PharmaClinix Stretchex Review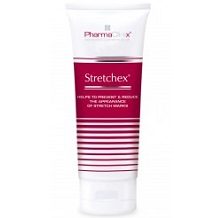 This is our review of PharmaClinix Stretchex. Its goals are to reduce stretch marks, smooth and tone the skin, while also increasing firmness and elasticity. It is a scientifically formulated stretch marks cream containing anti-inflammatories, cellulite reducers, vitamins, and peptides. Continue reading for our full review.
Ingredients
Stretching Force Reducers
Caesalpinia Spinosa extract
Kigelia extract
Quillaja extract
Glacium Flavum extract
Anti-Inflammatories
Phaseolus Lunatus extract
Hibiscus-eco
Green tea extract
Pal-GQPP and Pal-GHK (two new gene-activating bio-peptides)
Cellulite Reducers
Genisen
Spirulina Platensis
Caffeine
Carnitine
Vitamins
Vitamin E
Niacinamide
Panthenol
Calcium Pantothenate
Peptides
Palmitoyl Oligopeptide
Palmitoyl-Tetrapeptide-7
These ingredients are meant to make your skin firmer, more elastic, smoother, more toned, and reduce red stretch marks. Once your stretch marks turn white, these ingredients alone cannot help.
Dosage
It is recommended to massage into areas of your body that are prone to stretch marks twice a day. You are usually more prone to stretch marks during pregnancy or times of excessive weight gain or loss. Massage by using circular and upward movements.
Possible Side Effects
There are no possible side effects listed on the manufacturers website. It is possible to have an allergic reaction so be sure to test the product on a small patch of skin before you cover your whole body in it.
Price
PharmaClinix Stretchex is sold on the manufacturers website for $48.45 for a 6.8 ounce tube of lotion. As you can see, this is a very expensive product.
Guarantee
They have a 30-day money-back guarantee for new customers only. They will give you a full refund, not including shipping, for used or unused products if it is returned within 30 days of the initial delivery date. A return request must be made by email. We weren't able to find reviews for this specific product. There were many testimonials for PharmaClinix products in general but nothing for Stretchex.
Our Final Review of PharmaClinix Stretchex
There are a couple of positive things about this product. One of them being, the strong group of ingredients which main design is to reduce and remove stretch marks and cellulite. The second being, the 30-day money-back guarantee for new customers. We think that this guarantee is pretty fair, as it allows for opened products to be returned as well. There are a couple of things that concern us though. We don't like how we can't find any reviews on the product. We have no knowledge of its effectiveness because we haven't heard from any real customers. We also think this product is very expensive, especially since we have no idea if it works. We therefore do not recommend this product and feel there are better options out there.
Top investigative research brought to you by the experts at Customer Review.