Mama Mio Goodbye Stretch Marks Review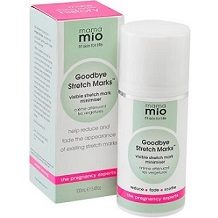 Today we are reviewing a product called Mama Mio Goodbye Stretch Marks. Mamma Mio claims that it's cream can reduce the appearance of stretch marks and also provides key nutrients the body needs to maintain skin elasticity. When the skin expands and then shrinks, it causes a loss of collagen which then shows up as these red, raised stripes. After the red phase, the settle into a different kind of discolouration. It is natural to yearn for smooth, supple skin.
Ingredients
Aloe Barbadensis Leaf Juice
Glycerin
Cyclopentasiloxane
Methyl Glucose Sesquistearate
Aqua (Water)
Methylsilanol Mannuronate
Persea Gratissima Oil
Cetearyl Alcohol
Cetyl Alcohol
Sodium Stearoyl Glutamate
Squalane
Butylene Glycol
Prunus Amygdalus Dulcis Oil
Caprylhydroxamic Acid
Lactic Acid
Sodium Lactate
Sodium Palmitoyl Proline
Tocopheryl Acetate
Parfum
Limonene
Hydroxyethyl Acrylate/Sodium Acryloyldimethyl Taurate Copolymer
Nymphaea Alba (Water Lily) Flower Extract
Glyceryl Caprylate
Ascorbyl Palmitate
Phyllanthus Emblica Fruit Extract
Carbomer
Linalool
Palmitoyl Tetrapeptide- 7
Palmitoyl Oligopeptide
Ascorbic Acid
Cetyl Hydroxyethylcellulose
Citral, Citronellol
Evernia Furfuracea Extract
Palmitoyl Oligopeptide
Rutin
Phaseolus Lunatus Seed Extract
Polysorbate 20.
This cream draws on five strong ingredients and peptides, fruit and algae extracts and a blend of nourishing oils to nourish the skin, repair it and smooth away the appearance of stretch stripes. Aloe is known as an antioxidant, that deeply repairs and most importantly, soothes inflammation. It would fight any redness. Together the synthesis of ingredients flattens the raised marks and work to restore elasticity and firmness.
Dosage
Apply a thin layer over each stretch mark thrice daily. Unlike other manufacturers, Mama Mio gives a timeline for when you can see improvement and puts this at 12 weeks.
Possible Side Effects
The cream is safe enough to use while breastfeeding but don't apply it to your nipple area.
Price
The tube of cream retails for $60 on the Mama Mio website. Delivery is free.
Guarantee
It appears that you only have 7 days to ask for a return and the process for doing so is rather long-winded and technical. Instead of a clearly worded policy, the manufacturer has opted to couch theirs in lengthy legalese.
Conclusion of Our Mama Mio Goodbye Stretch Marks Review
The obvious advantage of this cream is that you can use it while breastfeeding – you do not want to wait many months after pregnancy before tackling stretch marks because by then the marks start discoloring, at which point it is harder to treat. It also sinks in to the skin nicely, without leaving a sticky residue. There is free shipping and a short guarantee. On the downside, the product is very expensive and unfortunately, those who have tried it give it below average reviews. The product is vegan, and easy to use. Credit to the company for keeping less positive reviews on its website. It is likely that you will be better off with a vitamin E, aloe and silicone-rich product. These are known to work, with silicone being used by plastic surgeons to help patients recover from scars. Look for a better priced product also.
Top investigative research brought to you by the experts at Customer Review.