Mother's Special Blend Skin Toning Oil Review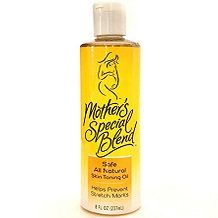 Many people struggle with unsightly stretch marks. One product, Mother's Special Blend Skin Toning Oil, is claimed to offer a solution to prevent stretch marks by nourishing and condition the skin as it contracts and expands during the stages of a pregnancy. Read our review to learn more about this product.
Ingredients
Coconut Oil – This natural oil protects and moisturizes the skin. More, it protects the skin against damage, and promotes a fresher appearance. Being high in Vitamin E it also heals the skin.
Sweet Almond Oil – High in fatty acids, these oils helps to soften and moisturize the skin.
Cocoa Butter – Acts as a conditioner and skin softener.
Vitamin E – This antioxidant assist the formation of tissues, but also protects the collagen in the skin.
Even though this formula is natural, there aren't any medical grade silicone as part of the ingredients. This type of silicone has clinically been proven to offer a defending layer, which seals in moisture and fast track healing.
Dosage
The manufacturer recommends that this oil should be used 3 months before delivery until 3 months after childbirth. However, the manufacturer recommends before using this product, to test a small section, inside the elbow and wait 24 hours, as an allergy test. If no rash presents itself, then it is safe to use. Users should apply this oil daily after a bath or shower when the skin is still warm and moist. The oil should be applied all over the body, including nipples. However, you should clean your nipples before and after nursing. Furthermore, you should never allow water to enter the bottle. The coconut and cacao butter will solidify if below 74 degrees. Therefore, to re-emulsify it by placing it in hot water, and shake well before use.
Price
Mother's Special Blend Skin Toning Oil is available on the manufacturer's own website. The price is $15.00 for an 8-ounce bottle. However, online is a special offer, buy 3 bottles and get a free bar of soap. No other discounts available.
Guarantee & Feedback
Notwithstanding a detailed search, no manufacturer guarantee could be found. This would question the effectiveness of a product. However, our research found that 80% of the reviews were of high quality, with minimal deception involved.
Our Conclusive Review About Mother's Special Blend Skin Toning Oil
Mother's Special Blend Skin Toning Oil is a useful treatment for stretch marks. It has good reviews, and all the ingredients are natural, safe, with no artificial or harmful elements for you or your baby. What this treatment lacks is a money back guarantee, since if you are allergic to this product; you would have wasted your money. In addition, although the instructions are broad, it lacks details about how much should be applied daily. Furthermore, although there are a lot of information on the company's website, it is poorly laid out, with scattered information making it difficult for the user. Lastly, although all the ingredients are natural, their effectiveness compared to others on the market might be questioned. For instance this product doesn't contain clinical proven medical grade silicon, aloe vera, emu oil, lavender, safflower, vitamin C, palmarose, or onion extract.
Top investigative research brought to you by the experts at Customer Review.