Skinception Intensive Stretch Mark Therapy Review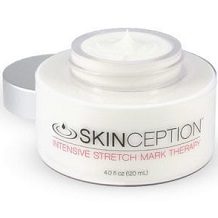 Skinception as a manufacturer is extremely confident in the ability of their product, Stretch Mark Therapy, to restore the skin's resilience and vitality that is lost during pregnancy, weight gain and hormonal changes. This review of Intensive Stretch Mark Therapy is with a view to examining whether consumers can gain new hope in the battle to decrease the appearance of these marks thanks to this Therapy.
When skin stretches too much, it loses collagen. This loss is one of the main reasons the skin cannot return back to normal and be 'tight' and smooth again. Cortisone-based creams and medications may also play a role.
Intensive Stretch Mark Therapy promises to reduce stretch marks by up to 72.5% and deliver noticeable results in 4 weeks.
Ingredients
Regestril
Darutoside
Pro-Svelty
Pro-Coll-One
These are the four known active ingredients. Regestril is a collagen activator. Studies have linked it to improving the depth of stretch marks. Darutoside is an anti-inflammatory that also improves elasticity. Pro-Svelty is known for its ability to reduce scars and together with Pro-Coll-One, it aids collagen production and synthesis. Together, these should help repair the body on a cellular level to skin returns to its smooth, supple, pre-mark state. Results will vary for everyone though and it is invariably true that new marks are easier to treat than older ones.
Missing from the formula are Vitamins C and E, which are potent known fighters in the quest for rejuvenated skin. Medical-grade silicone offers the best chance of locking in moisture and allowing the skin to heal, but is also missing in this product.
Dosage
The jar is designed to last for 1 or 2 months. Apply some to the affected areas daily or twice daily. Make sure the skin is clean. You can also apply it to areas with no stretch marks to prevent them from occurring.
Possible Side Effects
These are not particularly well flagged by the manufacturer but as the product isn't 100% natural we wouldn't advise it for pregnant or nursing women, or children. The manufacturer has a 'mom-to-be' special so clearly intends it for use in the run up to pregnancy as well, but simply clear this with your doctor if you have any reservations first. If you have sensitive skin or allergies and experience any irritation or burning, stop using the product immediately.
Price
One 4 Oz jar retails for $69.95. This is a steep price tag. There are incentives by decreased price to buy 3-, 6- and 9-month supplies. You'll also get an additional free Skinception product in each case.
Guarantee
The guarantee speaks volumes about the manufacturer's confidence in their Therapy jar. A 90-day risk-free guarantee applies. As they claim, it is industry leading. However, we've found one or two products which also provide the same guarantee so it is leading, but not unique.
The Conclusion of Our Skinception Intensive Stretch Mark Therapy Review
The ingredients in this product have been scientifically linked to improving the appearance of stretch marks. Both the depth and length of the marks are targeted. We love that Intensive Stretch Mark Therapy targets stretch marks specifically. It isn't a broad remedy targeting skin renewal or anti-aging, that incidentally also target stretch marks. Fading these raised, red lines is the primary target. There is also an emphasis on collagen stimulation, which is what is scientifically required. The inclusion of a medical-strength silicone sealant would have been great.
Such a sound product with a great guarantee should get more than the average reviews that it does. It seems the issue is the price. Consumers expect more for what they are paying. Try the product if you can make the initial outlay and wait the required 4 to 8 weeks to see results. If not, opt for a more inexpensive product that is also risk-free.
Top investigative research brought to you by the experts at Customer Review.