Bella Joi Stretch Mark Cream Review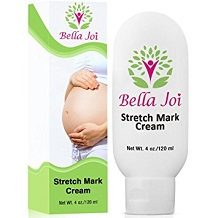 This review focuses on a product names Bella Joi Stretch Mark Cream. As the name suggests, it is a topical application to reduce or eradicate the appearance of stretch marks. Stretch marks often look like lines on the body. They cause the affected areas of the epidermis to go red, purple, pink or very light in color. They can sometimes itch and appear raised, like a ridge
Stretch marks often occur after pregnancy, following sudden weight loss or gain, and after growth spurts. This is due to constant stretching and tugging on the body, which causes skin to lose its elasticity. Lowered collagen levels are associated with reduced skin elasticity. Too much of the hormone cortisone can also cause your skin to lose the ability to contract smoothly. As a result, stretch marks can also be brought on by creams containing cortisone.
This Stretch Mark Cream consists of natural nourishing butters, and the 'best' antioxidants and oils. Let's take a closer look at the ingredients.
Ingredients
Cocoa Butter
Mango Butter
Olive Oil
Aloe Leaf Juice
Caprylic/Capric Triglyceride
Jojoba Oil
Rose Hip Oil
Deionized Water
Caprylic/Capric Triglyceride
Glycerin
Glyceryl Stearate
Stearic Acid
Cetyl Alcohol
Olive Oil
Grapefruit Seed
Tocopheryl Acetate
Sodium Hydroxymethylglycinate
Potassium Sorbate
Panthenol
Disodium EDTA
Orange Oil
Sodium Hydroxide
Orange Oil is important as it contains Vitamin C, which fights off free radicals. Free radicals are toxins which age your cells, and stop them from healing themselves. Aloe leaf juice and mango butter both have powerful anti-inflammatory and antioxidant properties. Aloe in particular soothes, and along with collagen-enhancing cocoa butter, this would help smooth angry looking red lines. Shea helps dry, damaged skin and also has strong antioxidant properties. Olive oil is important is it contains the fatty acids needed to feed sebaceous glands and help skin rejuvenate.
Jojoba and Rose Hip Oil also have immense healing properties (as does almond and peppermint oil, missing from this formulation). Caprylic is an easily absorbed, non-greasy moisturizer.
Most of the moisturizing butters also contain Vitamin E, which are vital in efforts to fade marks. Vitamin E supports cell growth and fast-tracks healthy, new cell formation. More concentrated forms of Vitamin E would possibly have helped in this formula.
We like the gentleness of the formula which is easily absorbed, but at the same time, potent. Notably missing though is medical grade silicone, necessary to help the skin heal quicker, free from interruption.
Dosage
Apply the cream to the affected areas lightly. You could also apply it to other areas likely to show stretch marks, such as the buttocks, belly, thighs and breasts. Apply twice a day.
Possible Side Effects
The manufacturer asserts that the product is risk-free.  It has no parabens, artificial fragrance or artificial color (it does have a fragrance, but this is natural, not synthetic). It is safe for pregnant and nursing mothers to use. We advise nursing mothers not to apply it the nipple or breast area where baby is likely to make oral contact.
Price
One 4 Oz bottle was previously available from Amazon for $19.99. However, at the time of compiling this review, the product was not available on Amazon. Bulk orders were available on the product website, but no price was given. Contact the manufacturer to obtain a quote.
Guarantee
We could not find any evidence of a guarantee on the product website or on Amazon.
The Conclusion Of Our Bella Joi Stretch Mark Cream Review
From a natural benefit synthesis point of view, the product composition looks solid. We like that it is natural, safe for use in pregnancy, and non-greasy. It receives very average reviews though and it seems the product has the best impact on new stretch marks.
We doubt it has the potency of argan oil based formulas, Vitamin E-enriched creams, retinol creams or those containing onion extract. Usually, products without medical-grade silicone do not work as effectively as there is not protective barrier to seal in moisture, and help skin heal. Finally, due to the seeming lack of a guarantee and unavailability of the product on Amazon, we are hesitant to recommend it.
Top investigative research brought to you by the experts at Customer Review.