Premium Certified GoutMD Review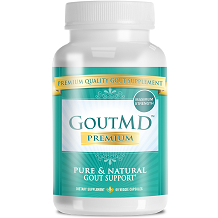 The following is a review of GoutMD in which we have assessed the product's formula as well as accompanying customer support to determine its effectiveness as a gout-relieving supplement. The company that has manufactured this product has created a formula of powerful ingredients geared towards relieving pain and swelling caused by the buildup of uric acid crystals in the joints. They argue that this all-natural product provides superior relief to competitors on the market.
Ingredients
Tart Cherry Extract
Artichoke Herb Powder
Folic Acid
Garlic Extract
Yucca Herb Stock Leaf
Milk Thistle Extract
Turmeric Root
Dandelion Extract
Rutin
This potent and patented formula contains ingredients that are clinically-proven to reduce inflammation, oxidative stress, and the buildup of uric acid crystals which cause severe joint discomfort. Tart Cherry Extract is a powerful anti-inflammatory that contains high levels of anthocyanins which are known to reduce the buildup of uric acid in the blood. Folic Acid is another key ingredient that is known to block the production of enzymes that promote the production of uric acid in the body. The addition of Turmeric and Dandelion Extract boost the anti-inflammatory properties of this product and support overall health. This product formula adheres to strict cGMP guidelines as well as complies with the US Pharmacopeia standards of purity and quality which is indicative of its ability to provide optimal results.
Dosage
The manufacturer provides clear directions on how to use this product for best results. It is advised that two (2) capsules be taken daily with meals. Each serving provides sufficient dosages of the key ingredients for improved gout relief.
Possible Side Effects
The manufacturer assures that this product is 100% natural and it does not contain preservatives, additives, or artificial ingredients. The product is, therefore, vegan-friendly and there are no noted negative side effects associated with use. It is advised that you do not exceed the recommended dosage.
Price
This product is sold online through GoutMD for $48 per bottle. The manufacturer offers significant discounts on bulk-buy orders. The most popular deal is a 'Buy 3 Get 3 Free' which provides a six (6) month supply for $138. This will save you $270 which makes prolonged use extremely inexpensive. This is an appealing factor and coupled with the Norton Shopping Guarantee that protects you from ID theft when shopping online, this is an attractive product to consider for purchase.
Guarantee
The purchase of this product is backed by a 100% satisfaction guarantee. This guarantee is applicable for 90 days from purchase and any opened or unopened product is eligible for a refund. This suggests that the manufacturer is confident in the product's ability to provide optimal gout support and bodes well for its efficacy.
Conclusion of Our GoutMD Review
GoutMD contains several essential ingredients for relief of symptoms associated with gout. The clinically-proven, patented formula is of a very high quality as formulation has overcome strict standard assessments. On top of this, a guarantee supports every purchase and is indicative of the manufacturer's confidence in the product. Lastly, the long-term use of this product is competitively priced. Therefore, this product would provide optimal and sustainable support for gout and we recommend it as a top product choice.
Top investigative research brought to you by the experts at Customer Review.