Naturalico® 80% HCA Pure Garcinia Cambogia Extract Review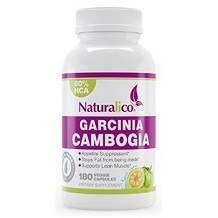 In the last few years since Garcinia Cambogia had been made known by Dr. Oz on his show there have been many Labs proclaiming to have the perfect and magical remedy when it comes to weight loss.
Naturalico® has been one of the many brands that claim that their supplement will stop fat from producing, while supporting you with lean muscle production. With the bold white inscription printed on the purplish color standing out to get your attention on the front of the bottle, you would want to take a closer look at this magic solution to all your weight problems.
However, when reading through reviews you would find that there have not been many feedbacks from customers who have used the weight loss product and with those that had been noted they all seem to be very happy with the results received.
For this reason, we decided to examine the elements concerning this product in order to construe if it is truly an effective Garcinia Cambogia product.
Ingredients
Upon investigating Naturalico®, we revealed the following ingredients to be in each capsule:
Garcinia Cambogia – 700mg containing 80% HCA (Hydroxycitric Acid) a percentage within the realm of success.
Calcium Carbonate – 35mg – although Naturalico® asserts this is a naturally occurring ingredient, this is bewildering since calcium actually reduces the effectiveness of HCA.
Chromium – 140mcg
Potassium Chloride – 35mg
Dosage
It is suggested that consumers take 1 capsule 2 times a day, 20-30 minutes before a meal. It is also recommended that each capsule be taken with 8 Oz. Water.
*No side effects could be found by the few users that have taken the supplement.
Price
Naturalico® can be bought on Amazon for $9.99. You will receive 180 capsules that should last you 3 months.
Guarantee
When it comes to your customers' satisfaction is important. That is why Naturalico® supports its product with a 100% money-back guarantee. If you don't lose weight, you will get your money back. This is a concrete guarantee as long as it has no precise time limit. If it does, this could nullify the guarantee if results do not show within that time frame.
Naturalico® 80% HCA Pure Garcinia Cambogia Extract Review Conclusion
From examining the information made available above, we can see that Naturalico® does have some good advantages.
However, with these advantages comes a certain amount of drawback. The biggest concern is the use of calcium. Although Naturalico® state tests show calcium to be a benefit to weight loss; others have shown this actually lessens the efficiency of the fat burning component, HCA.
Even though Naturalico® has a minute dosage of calcium associated with other calcium integrated supplements, it still must be put on the list of those supplements that are less effective.
A final disadvantage is the quantity of Garcinia Cambogia. Based upon tests, an everyday dosage of 1600 mg or more is essential for the most successful weight loss results. Because Naturalico® only suggests a daily dosage of 1400 mg; users will experience a shortage of 200 mg, thus reducing the chance of success.
Top investigative research brought to you by the experts at Customer Review.