Pure Life Garcinia Cambogia Extract Review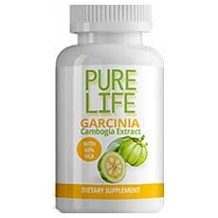 Pure Life Garcinia Cambogia Extract is a product for people who are looking to slim down. Based on Garcinia cambogia extract, it is intended to help guard against fat formation and destroy existing fat buildup. It is described as a "miracle appetite suppressor." The company that makes this product claims the supplement was used in a study that appeared in the journal of Diabetes, Obesity, and Metabolism on its effectiveness in driving weight loss. It also says it is so popular (having been featured on TV) that supply is impossible to guarantee. Let our Pure Life Garcinia Cambogia review educate you on whether this is truly a smart choice.
Ingredients
The entire focus of the formula is on one ingredient – Garcinia cambogia extract (containing 60% hydroxycitric acid). Other ingredients in the supplement are the vegetable capsule, cellulose, and magnesium stearate.
Although we have seen higher concentrations, Pure Life claims this supplement is better than rival offerings, which only contain 30-50% HCA. It says this is no cheap imported extract and was not grown in a lab setting. The active ingredient is said to block the enzyme citrate lyase from making fat in the body. It also works on your brain and body chemistry to raise serotonin levels and reduce appetite. Pure Life Garcinia does not contain any cheap fillers or harmful ingredients, according to its maker.
Dosage
Adults are recommended to take one capsule of this weight loss supplement two or three times a day. It is not meant for use by people under the age of 18 years old.
Possible Side Effects
We didn't notice reports of side effects while researching for this review. However, the usual precautions apply. Pregnant or lactating women are not to use Pure Life Garcinia without consulting a doctor. You should also talk to one if you have an existing medical condition or you are on prescription medications.
Price
This dietary supplement is a bit steep in terms of pricing. Its cost per bottle goes as high as $100 in some cases! But the price is around $85 via the manufacturer's website. The company offers buyer opportunity of getting a free bottle, for which you will only pay for shipping. But that offer appears to be valid for just 14 days. You can cancel your order within that period if you are not satisfied. Otherwise, you will be charged a one-month supply price of $84.74! The company will also enroll you in an auto-ship program whereby you get a new supply every 30 days and your credit card will be automatically charged.
Guarantee
There is mention of a 30-day money back guarantee on the official product website. We do not think this applies to your first order, considering you are given 14 days to cancel.
Conclusion of Our Pure Life Garcinia Cambogia Review
Overall, we may be right to say this is a decent product for weight loss. It is manufactured in a United States, FDA-approved facility that is compliant with GMP guidelines. It also comes with a money back guarantee. But this is one expensive supplement at almost $100! What is, perhaps, more discouraging is that some people have said it didn't produce desired results on top of that. They also complained about what they called poor customer service from the company. We think you can find cheaper and comparatively better alternatives out there.
Top investigative research brought to you by the experts at Customer Review.