Nutrition Inferno's Garcinia Cambogia Inferno Review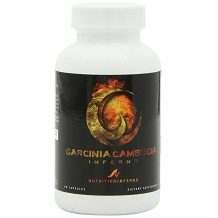 In this Nutrition Inferno's Garcinia Cambogia Inferno review, we take a closer look at this product to help you decide if this is the supplement you are looking for. The manufacturer says it helps suppress appetite and burn fat for both men and women and promotes lean body mass and healthy cholesterol levels. It also claims to work for those who want to lose up to 50lbs. It is also said to help control serotonin levels to stop individuals from eating excessively due to emotional reasons.
Ingredients
Calcium 50mg
Chromium 200mcg
Potassium 50mg
Garcinia Cambogia (Fruit Rind) Extract (with 60% HCA) 1000mg
This supplement contains 1000mg of Garcinia Cambogia with 60% HCA, the product's active ingredient. According to our research, this ingredient helps control a number of factors that lead to weight gain, including controlling serotonin levels to avoid emotional splurges, increasing fat oxidation and promoting healthy cholesterol levels.
Dosage
According to the product label the serving is two capsules. We were not able to find information on when the capsules should be taken, whether before or after meals or for how long.
Possible Side Effects
No side effects were shown on the product's label. Our research has shown that possible side include stomach upset, lightheadedness and occasional headaches.
Price
At the time of writing, we were not able to determine the price of this product as it was out of stock.
Guarantee
According to the product's Amazon listing, if you are not satisfied with your purchase, you can return the product and for a full refund. However, the time period, the condition by which the product should be returned and all other information about the return policy is not clear.
Conclusion of Our Garcinia Cambogia Inferno Review
The product seems to contain essential ingredients that can help individuals lose some weight. However, this product is missing a lot of standard and important information that would help an individual decide its worth. For example, the product lacks information about how and when it is supposed to be taken and details regarding its return policy. Furthermore, the product has only 17 reviews on Amazon, the most recent of which was from 2014 and 29% of those reviews gave it one star out of five.
Top investigative research brought to you by the experts at Customer Review.