Garcinia Lab Garcinia Cambogia Review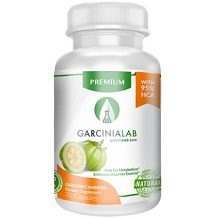 The following review is about Garcinia Cambogia 60%, a non-stimulating dietary supplement that claims to suppress a person's appetite and supports weight loss in a safe manner. Aside from that, the product also offers to boost a person's energy levels, assists in metabolism and reduces cravings for sugars and carbohydrates. Garcinia Lab also says that this product contains no fillers, no binders, no calcium and is made from 100% veggie capsules.
Ingredients
The only ingredient in this product is 1000mg Garcinia Cambogia Extract standardized to 60% HCA (Hydroxycitric Acid). It also consists of vegetable cellulose which makes up the capsule.
Garcinia Cambogia, the supplement's main ingredient, comes from a small plum-colored fruit called Garcinia Gummi-Gatta. This native fruit of tropical countries such as Thailand has been shown to control satiety by regulating serotonin levels in the body. According to a study that was shared on the manufacturer's website, Garcinia Cambogia also helps in reducing abdominal fat accumulation in both male and female participants of the study.
Dosage
This dietary supplement is recommended to be taken twice a day or as recommended by a healthcare practitioner. If you're taking two capsules a day, take one 30 minutes before breakfast on an empty stomach and another one 30 minutes before either lunch or dinner preferably with adequate water (8oz). However, the dose for this supplement falls slightly below the recommended Garcinia Cambogia dose of 1500 – 2500mg per day.
Possible Side Effects
Pregnant women, children under the age of 18 years and those who have other medical conditions should not take this product without any consultation or health advice from a health care practitioner. Although it was not stated on the manufacturer's website, the product could bring some unwanted side effects. This includes headaches, dizziness, stomach upset, nausea, toothache, diarrhea, and the common cold.
Price
The product is available for an online purchase from the manufacturer's website for $24.95 per bottle which contains 30 capsules. Multiple purchases of this product from the manufacturer's website could also grant an individual some discounts. For example, if you purchase 2 packs, you'll have 4% discount for each bottle, a purchase of 3 packs will give you a 15% discount, 4 packs will get you a 19% discount, and if you decide to buy 5 packs, you'll have a 23% discount on each bottle.
Guarantee
Unopened bottles may be returned within 30 days of purchase for a full refund or a credit to the purchase price towards the exchange. For opened and damaged merchandise, a return is possible but must be done within one week of purchase. It is also very important to keep in mind that shipment charges are non-refundable.
Conclusion of Our Garcinia Lab Garcinia Cambogia 60% Review
The all natural ingredients of the product is good news to those who want to get rid of some excess weight without taking any chemicals. The product also seems to please some buyers as it has some good reviews on the manufacturer's website. Despite all of that, the product seems to fall short of the recommended dosage of Garcinia Cambogia for it to be fully effective. The lack of a sufficient money-back guarantee also means that if this product does not in fact work for you, you will have no recourse to get your money back.
Top investigative research brought to you by the experts at Customer Review.