Healthy Now Nutritionals Garcinia Cambogia Review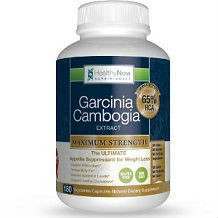 Garcinia Cambogia has become an astounding fighter against weight gain, since it acts in a twofold way, by limiting your appetite and precludes fat from being produced in the body.
Healthy Now Nutritionals Garcinia Cambogia seems to have all the required necessities and advises all customers that they can receive the following benefits from using their product:
Keep your appetite in control
Prevent fat from forming in your body
Helps to increase your metabolism
Aids in reducing belly fat
Increases your Serotonin levels
When looking at the benefits it provides, it may be a good choice when you are looking to lose some unwanted weight. The supplement comes in a very well designed bottle that is very eye catching where colors are concerned.
Ingredients
When taking a closer look at the ingredients obtained on the supplement label we found the following:
65% HCA Garcinia Cambogia extract – 1000 mg (providing you with 3000 mg strength per day)
Chromium – 250 mcg
Calcium – 125 mg added in combination
Potassium – 140 mg required for absorption
These facts are in each serving, and each portion contains two capsules. You need to keep such characteristics in mind as they give you an idea about how many capsules you will have to take on a daily basis. We became aware that their Garcinia Cambogia includes rather a large amount of calcium, a mineral known to prevent the fat burning effect of the dynamic ingredient in the tropical fruit.
Dosage
The firm recommends you to take one to two capsules three times daily, for the greater weight loss effect. By taking 3000 mg of Garcinia Cambogia daily, you get twice the suggested amount of 1500 mg. On the other hand, the producer warns to not exceed the suggested dosage of six pills daily.
Side Effects
No side effects are known while using the Healthy Now supplement and most users have not mentioned any negative effects while using the product.
Price
You can buy the product from Amazon for a discounted price of $29.87 and the bottle contains 180 capsules, if you do take this weight supplement at the recommended dosage of 6 capsules daily this bottle will only provide you with a month supply.
Guarantee
The company offers their clients with 30 day money back guarantee policy, so, if you are unsatisfied with the results, you can ask for a refund.
Conclusion of Healthy Now Nutritionals Garcinia Cambogia Review
When it comes to losing weight, all of us are looking for a miracle cure, so that you can just lose weight overnight. Though, Garcinia Cambogia is a great helper for losing weight, too much of it is not good for your health.
When looking at it seems to be a reliable product, but the recommended dosage advised to be taken is a bit too high. It has 65% HCA extract concentration, which is great, but the calcium used is, again, too high, and it may not burn the belly fat you want so badly to get rid of.
Top investigative research brought to you by the experts at Customer Review.