LiveTru Nutrition Garcinia Cambogia Extract Review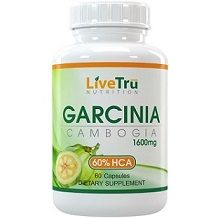 The following is our review of LiveTru Nutrition Garcinia Cambogia Extract. The manufacturer of this supplement claims that it can help to suppress hunger and encourage weight loss. Hydroxycitric acid works by inhibiting the enzyme called citrate lyase that your body needs to make fat from carbohydrates.
Ingredients
Potassium
Calcium
Garcinia Cambogia
The garcinia cambogia extract in this supplement contains 75% Hydroxycitric Acid (HCA), while similar supplements have up to 95% HCA.
Dosage
Take 3 capsules, 2-3 times daily ideally 20-30 minutes before you eat a meal. Do not exceed more than 6 capsules in 24 hours. To maintain a healthy weight, you should decrease each dose to only one capsule. The daily dose 6000 mg of garcinia cambogia is significantly higher than other weight loss supplements of its type. Consult your doctor before using especially if you are pregnant, nursing, taking other medicines, or planning any medical procedure. Discontinue use if you experience adverse reactions.
Possible Side Effects
There are no side effects mentioned on the company website or product label but our own research informed us that Garcinia may cause nausea, headaches, or digestive tract discomfort. Other possible side effects include damage to the liver, weakness, fatigue and brain fog, skin rashes, lower immune function, dry mouth, and bad breath. Consult with a physician before beginning use of this supplement and stop if you experience any side effects.
Price
On the company website, a 180 capsule bottle costs $29.95. If you provide your email and join the website's subscription, you can get a 20% discount off your first order. There are no bulk buying discounts available for this product.
Guarantee
The manufacturer offers a weak 14 day from purchase return policy only on unopened bottles. Shipping and handling is deducted from the return value on the product. Returns are only accepted if purchased directly from the company website.
Conclusion of Our LiveTru Nutrition Garcinia Cambogia Extract Review
We have a few positive things to say about LiveTru Nutrition Garcinia Cambogia Extract. The supplement is GMP certified and registered with the FDA. The product contains no artificial ingredients, fillers, or binders. There is a 20% first time customer discount. We were pleased to see that the website mentioned that this is not a magic pill and that weight loss is more likely when taking the supplement along with a healthy diet and regular exercise. Among the negatives that we have about this product are that the per bottle price is high at $29.95 considering it only contains enough pills for a month's use and there is no bulk buying discount. The 14 day guarantee period is disappointing because it doesn't allow for return of opened bottles, and it requires you to return the product back to the manufacturer within 14 days from the order date. We felt rather dismayed by the lack of transparency regarding possible side effects. Consumers need to be informed and that is the responsibility of the company. We recommend that you seek out a Garcinia Cambogia supplement with a decent guarantee, and a better explanation of uses, benefits, and potential side effects.
Top investigative research brought to you by the experts at Customer Review.