Naturo Science Garcinia Cambogia Review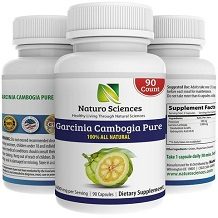 The following is our complete review of Naturo Science Garcinia Cambogia. Garcinia Cambogia is a natural extract that comes from the tamarind fruit, commonly found in Africa. The maker's of this supplement claim that this product will help you lose weight because of its appetite suppressant qualities. 
Ingredients
Potassium 500mg
Garcinia Cambogia 1000mg (60%)
Hydroxycitric acid, or HCA, has been shown in research studies to boost fat-burning and cut back appetite. It appears to block an enzyme called citrate lyase, which your body uses to make fat. It also raises levels of the brain chemical serotonin, which may make you feel less hungry. The potassium helps to increase the absorption of the HCA into your body. This product has 60% HCA but competing brands offer as much as 95% HCA and 1600 mg per serving, making this supplement possibly less effective.
Dosage
Adults take one capsule 30 minutes before each meal for maintenance. For maximum weight loss, take two capsules minutes before each meal. Do not take more than 6 capsules in a 24 hour period. 
Possible Side Effects
No specific side effects are mentioned on the label or manufacturer's website but there are some cautions. Do not exceed recommended dosage, and no more than 6 capsules per 24 hour period. Consult your physician before taking if pregnant, nursing, for children under 18, and individuals with known medical conditions.
Price
The product is currently not available for purchase from the manufacturer's website. On Amazon, a 90 capsule bottle costs $17.97 with free shipping. This is a one month's supply. There are no new customer discounts or bulk buying incentives offered on the manufacturer's website. If you add the code, HELLO15 at check out, you can receive a 15% discount coupon. 
Guarantee
The manufacturer offers a 30 day money back guarantee. It does not seem to include opened bottles of pills.
Conclusion of Our Naturo Science Garcinia Cambogia Review
There are a few things we liked about Naturo Science Garcinia Cambogia. Its ingredients have been known to be effective in suppressing appetite and can in some cases help people lose weight. The price for a month's supply is reasonable and there was a new customer discount of 15% available. Among the things that we did not like about this supplement are that this product has only 60% HCA and 1000mg per serving, but competing brands offer as much as 95% HCA and 1600 mg per serving, making this supplement possibly less effective. There is only a relatively short 30 day return policy offered by the manufacturer that does not include opened bottles. Also, there is no bulk buying discount either. Many of the reviews we read on Amazon stated that they received the product for free in exchange for providing a positive review of the product which makes finding an honest review difficult to find. The link between the supplement's ability to help suppress appetite and its goal of helping you lose weight are tenuous. Many factors are involved in losing weight including overall diet and exercise and a healthy lifestyle. This caveat should have been included somewhere on the manufacturer's website. We suggest that when looking for a Garcinia Cambogia supplement, try to find one that delivers the maximum amount of HCA, and one that is backed by a long and reliable return policy.
Top investigative research brought to you by the experts at Customer Review.