Thrive Naturals Garcinia Cambogia Ultra Max Review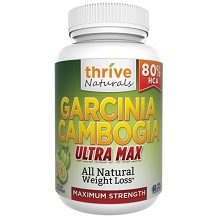 Thrive Naturals Garcinia Cambogia Ultra Max is a supplement for weight loss. It is described by its maker as the "most potent and pure form" of Garcinia cambogia-based products currently on offer. It helps to burn fat and to prevent new fat formation. The target users, according to the company, are those people who are truly interested in achieving maximum weight loss. Thrive Naturals boasts of using only 100% pure ingredients – nature's best – for its products. Then this must be the product for you, right? Find out in our Thrive Naturals Garcinia Cambogia Ultra Max review.
Ingredients
According to Thrive Naturals, this weight loss formulation features the following ingredients:
• Garcinia cambogia extract standardized to 80% Hydroxycitric acid (HCA) – 1600 mg
• Potassium – 70 mg
Thrive Naturals Garcinia Cambogia Ultra Max has one of the highest HCA concentrations among current Garcinia cambogia weight loss products, however, there are products that offer 95% HCA. This, its manufacturer says, make it more effective than rival offerings. The active ingredient (HCA), as shown in clinical trials, is thought to suppress appetite, burn fat and prevent fat buildup. It may also boost your mood and help control stress-induced eating. In its own case, potassium promotes the absorption of the main ingredient by the body.
Dosage
The recommendation is to take two capsules per day, preferably one in the morning and one in the afternoon. The capsules are to be taken half an hour (30 minutes) before your meals with a glass of water.
Possible Side Effects
Thrive Naturals Garcinia Cambogia Ultra Max is a mostly safe supplement given its natural ingredients. However, there is a report of side effects, such as headaches. Its producer advises adhering strictly to the suggested dosage to avoid issues. You will do well to speak to your doctor if you are pregnant or lactating before use. This is also important for persons younger than 18 years old.
Price
A bottle of this supplement goes for $43,95 on Thrive Naturals' website. This comes with 60 capsules – a month's supply. You can save more money and enjoy free shipping when you buy three or six bottles. More than $10 saving is made on each bottle when you order six bottles, with a total cost of $199.95.
Guarantee
This product comes with an amazing one-year (365 days) money back or exchange guarantee. Its maker says you simply need to give them a call or send an email if you are not satisfied with the results you get. It says you should normally see results within four weeks.
Conclusion of Our Thrive Naturals Garcinia Cambogia Ultra Max Review
Looking at this product, one may say it is likely to be beneficial when you consider the amount of hydroxycitric acid (HCA) that it contains. It also comes with a generous one-year, 100% money back guarantee. Strangely, though, there are reports of users who claimed the product delivered no weight loss, even after using it for months. However, there are products with higher concentrations of HCA, so maybe this does make all the difference. Side effects, such as headaches, have also been reported, although this might have been from improper usage. It is a bit disappointing that the efficacy of this product appears to be a matter of maybe.
Top investigative research brought to you by the experts at Customer Review.