Sonora Nutrition Garcinia Cambogia Review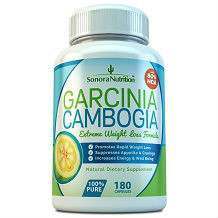 Sonora Nutrition is in Scottsdale, Arizona, providing you with health supplements. The dietary supplement they make, Sonora Nutrition Garcinia Cambogia is based on an exceptional 80% HCA concentration, which is one of the highest available on the market today.
When looking at their web source they do not offer you much regarding the product accepts that it works as an appetite suppressant while blocking fat, helps increase your Serotonin level for improved moods and reduces Cortical and belly fat.
The only well informed information required had been from the third party retail site Amazon where there is a full description regarding this supplement. When seeing the 80% HCA used, this causes some major bells to go off advising us to take even a closer look at this so called miracle product provided by them.
While Sonora Nutrition Garcinia Cambogia according to customers is a good product to use there had been positive and negative reviews regarding this miracle weight loss supplement.
Ingredients
The third party retail site advertises this product as being the most effective available on the market. Findings regarding the ingredients used in this supplement:
Calcium Carbonate – 70 mg
Potassium Chloride – 70 mg
Chromium – 280 mcg
80% HCA Garcinia Cambogia fruit extract – 1400 mg
These figures are for the daily value when taking the capsule and a single serving contains two capsules providing you quite a lot of mg at once. While the potent formula delivers 1400 mg of Garcinia Cambogia in one serving only you are actually taking 4200 mg, we also see that the product also has calcium, a known disincentive of the fat burning properties of this particular fruit extract.
Dosage
The retailer recommends taking two capsules three times daily for the best results. Bearing in mind that the amount suggested is so high, particularly for a potent formula like this one, we think the thing to do is to see your physician over this.
Side Effects
Most users had been pleased with the weight loss supplement with no noted side effects, where others had an upset stomach the first day of using the product. It had been noted that others did not lose weight by using the product, but had over efficient enough energy.
Price
The supplement can be bought at Amazon for $19.95 and a bottle holds 180 capsules. If the required dosages of six capsules are taken daily, it will only provide you with a month's supply.
Guarantee
The manufacturer's website does not provide any information regarding a guarantee, but when you take a closer look at the features the product offers you on Amazon, they advise you that you will receive an additional 365 money back guarantee above their own 30 day money back guarantee they provide the customers.
Conclusion – Sonora Nutrition Garcinia Cambogia Review
Although this supplement is recommended by users it still contains calcium that could cause problems when it comes to breaking down the fat in your body.
By taking 6 of these capsules a day you are actually receiving 4200 mg of the Garcinia Cambogia every single day that could cause negative reactions in your body while being used.
Top investigative research brought to you by the experts at Customer Review.