GreeNatr Garcinia Cambogia Supplements Review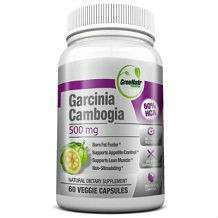 The fresh purple, silver color blend might at the beginning grab your attention, but it GreeNatr Garcinia Cambodia's declares will make you linger on their product. They claim that their diet supplement will curb your appetite, remove your cravings, prevent your body from converting sugars and Carbohydrates into fat, control your emotions, and even burn glucose, sugar, and fat from the liver.
This dietary suppressant will leave many feeling they have found a magical potion to successful weight loss. Though, can one product really produce so many results? Based upon customer reviews, the answer is yes. For all those who have taken and evaluated GreeNatr have been relatively happy with the outcome of the product, let us take a careful look at this diet supplement.
Ingredients
Upon investigating the ingredients listed on the label of this product, we discovered the following:
Garcinia Cambogia – 1000 mg which includes the 60% HCA (Hydroxycitric Acid) believed to be effective.
Potassium – 150 mg
Vegetable Cellulose – capsules
Dosage
According to GreeNatr, you should take 2 capsules every day with 8 Oz of water. It is suggested that this dosage can be taken 1/2 – 2 hours before meals
Side Effects
After reading through various customer feedbacks there are no known side effects with using GreeNatr Garcinia Cambogia.
Price
GreeNatr products can be bought on Amazon for $23.97. By buying this supplement, consumers will obtain 60 capsules. Calculated with dosage, this is equal to a 30 day supply. A special discount is offered when buying 2 or more bottles plus you received free shipping that provides you up to 30% discount and they offer you more discount the more total of bottles you buy from them.
Guarantee            
GreeNatr knows many people are doubtful when trying weight loss products. For this reason they offer their clients with, a 60 day, "No-Questions-Asked," money-back guarantee with all bottles bought. This guarantee provides their clients with reassurance; but, because GreeNatr does not state when results may be expected, this guarantee may not be quite alluring.
Conclusion of GreeNatr Garcinia Cambogia Supplements Review
Regarding information mentioned above, GreeNatr seems to offer its clients with the success required. Nevertheless, it is vital to note that even though this supplement has great reviews, there have been a small number of customers to review it. As more users take this product, it is natural that side effects, cancel successes, and despondent customers will arise.
This is due to two definite flaws in the product. First has to do with the milligrams per daily dosage in this product. Each quantity only contains 1000 mg of Garcinia Cambogia, almost ½ the dosage tested to be the most effectual. In order for customers to obtain the correct dosage, they would have to twofold their daily intake of capsules. Second, worry is the guarantee. As GreeNatr does not declare when users can expect results, it is hard to identify if this money-back guarantee is in fact good.
Top investigative research brought to you by the experts at Customer Review.