Pure Health Garcinia Cambogia Review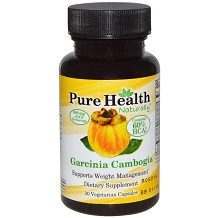 Excessive weight seems to be a very common scenario nowadays and it is no surprise that many weight loss supplements have hit the market to counter this condition. In this Pure Health Garcinia Cambogia review, we present all the information you need to know so you'll  have an easier time deciding its worth.
This dietary supplement claims to offer healthy weight management to those who are seeking to lose some extra pounds. The product claims to block the body's ability to produce fat and puts a halt to appetite. Furthermore the product  also claims to contain no fillers or binders and is packaged using a vegetarian capsule that simply dissolves during digestion.
Ingredients
Calcium ( as Hydroxycitrate ) 5mg
Potassium ( as Hyroxycitrate ) 90mg
Chromium (as picolinate)  100 mcg
Garcinia cambogia (fruit rind) Extract (60% (-)-Hydroxycitric Acid) (480 mg (-)-Hydroxycitric Acid) (800mg)
Black Pepper (Piper nigrum) Extract (95% piperine) (9.5 mg piperine) 10mg
The product's main ingredient, Garcinia Cambogia comes from a fruit that is native in Asian countries. This ingredient, specifically the HCA extract, exhibits anti-obesity activity and helps reduce food intake by regulating certain hormones in the body. As for the other ingredients, we were not able to completely to find any information regarding them.
Dosage
According to the product's website, the recommended dose is two capsule three times a day before meals, and should be taken with plenty of water.
Possible Side Effects
The product's website did not list any side effects for this specific product. However, we were able to find out that Garcinia Cambogia may cause some Gastrointestinal upset. Aside from that, Garcinia Cambogia might also cause some headaches, dizziness and nausea.
Price
At the time of this review you could buy Pure Health Garcinia Cambogia at walmart.com for $9.98 per bottle of 30 capsules. Although it seems not inexpensive, keep in mind that one bottle will only last for around 5 days if you follow the recommended dose.
Guarantee
The product's website claims to accept returned items but did not state what conditions these items should be in. The time period for these items to be returned was  also not clear on the product's website.
Conclusion of Our Pure Health Garcinia Cambogia Review
Pure Health Garcinia Cambogia contains 60% HCA which means that this supplement is on target as this is the recommended HCA concentration to help individuals lose some unwanted weight. (It should be noted that some competitor's formulate their HCA at notably higher concentrations). However, the product's guarantee policy is not very clear and the cost for a month's supply is not cheap. The product's website also failed to give details on what the other ingredients do which might create some confusion to others.
Top investigative research brought to you by the experts at Customer Review.