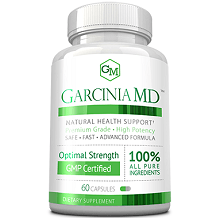 Garcinia MD is one of the best weight loss products we have reviewed. Garcinia MD is one of our favorite products because it doesn't just help users get rid of body fat, but it helps users in other ways as well, such as preventing weight gain, reducing appetite, and improving one's mood. This product aims to help users lose weight, while also helping them to keep the weight off and improving their overall happiness.
Ingredients
There are two active ingredients in Garcinia MD. These are 95% HCA (Hydroxycitric Acid) and Potassium. HCA is a citric acid that has been extracted from the rind of the Garcinia Cambogia fruit. Garcinia Cambogia fruit is often used to help aid in fat burning. It also suppresses the appetite and can improve someone's mood. Potassium is used to enhance the benefits of HCA. Potassium balances the body and makes sure that the body doesn't suffer from potassium deficiency, which often happens while losing weight.
Dosage
The recommended dosage for Garcinia MD is two capsules a day. While these capsules can be taken at any time, it is recommended to take one in the morning and one in the afternoon. This allows for better results. It does not have to be taken with food or water.
Pregnant and nursing mothers, children, and individuals with a known medical condition, should not take this product without getting a doctor's recommendation first.
Possible Side Effects
While the manufacturer does not list any possible side effects, other sites have associated the following side effects with too much of the ingredient Garcinia Cambogia:
Dizziness
Dry mouth
Upset stomach
Diarrhea
Headaches
Price
Garcinia MD has a number of purchase options. Customers can purchase one 60-capsule bottle for $49.95, or they can choose to purchase one of the package deals. Currently, there are three package deals being offered:
Buy two 60-capsule bottles for $69.90.
Buy two 60-capsule bottles and get two for free for $111.80.
Buy three 60-capsule bottles and get three for free for $139.80.
Each bottle is a one-month supply.
Guarantee
The manufacturer has a 60-day, risk-free guarantee. Customers can return any used, or unused, products for a full refund, minus shipping costs. This includes any products that were bought on sale. Customers can return products for any reason.
The reviews for this product are mainly positive, claiming that this product is safe to use, and is offered at a great price.
Conclusion Of Our Garcinia MD Review
After reviewing this product, we conclude that Garcinia MD is one of the top products for weight loss. Garcinia MD uses two ingredients that are key for losing weight. Unlike inferior products, there are no added chemicals that could weaken, or prevent, the desired effect of this product. Also unlike inferior products, Garcinia MD doesn't just help users lose weight, but it helps users keep the weight off and improves their mood which are important parts of the weight loss process. Not only does this product meet high standards, but the manufacturer does as well. The manufacturer offers a 60-day guarantee, meaning that customer satisfaction is at the top of their priorities.
Top investigative research brought to you by the experts at Customer Review.