Radical Skincare Advanced Peptide Antioxidant Serum Review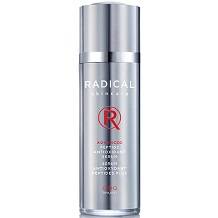 In this review, we are discussing Advanced Peptide Antioxidant Serum made by Radical Skincare. This product claims to boost collagen production and protect your skin against free radicals. It also claims to repair damage caused by the sun and helps sensitive skin from breaking out. It can help to make you look younger too, by reducing the appearance of fine lines and wrinkles. If you would like to find out exactly how it works, read the rest of this review below.
Ingredients
Sepilift
Alistin
Collaxyl
Vitamin C
Hyaluronic Acid
Argireline
Extramel
Arganyl
Red Tocol
Rice Oil
Date Oil
Seplift helps to firm and hydrate the skin whilst Alistin repairs and provides your skin with metabolic stimulation. Vitamin C and Collaxyl helps to reduce the appearance of wrinkles and fine lines and minimizes spots. Hyaluronic Acid and Argireline hydrates skin and fights off future wrinkles. Extramel and Arganyl help to keep skin elastic and supports the formation of collagen. Red Tocol and Rice Oil reduce transpidermal loss and act as an anti-inflammatory that nourishes your skin. Jojoba and Date oil helps to provide nourishment and hydration to keep your skin soft and luminous. Although this product does have a lot of beneficial ingredients, it does not state whether they are patented and clinically tested. Without the ingredients being scientifically tested, it is impossible to know whether this product will be truly effective.
Instructions
It is recommended that you apply this product in the mornings and in the evenings on the face and neck. However, it is not stated how much product should be used with every application. This could lead to overuse or underuse of the product which may affect the results you get. The product comes in an airtight pump bottle.
Price
You can purchase this product directly from the manufacturer's website for $190.00. There are no current discounts available when buying this product. This product is also on the more expensive side when compared to similar products currently on the market. This product also seems to be sold out at the moment, which will force the buyer to try and locate it at 3rd party retailers.  Delivery usually takes anything from 5 – 10 business days.
Guarantee
This company does provide you with a money back guarantee if you return your unwanted product within 30 days of the shipping date. Unfortunately, they do not refund shipping and handling expenses. It is also not explicitly stated in what condition your product needs to be in to qualify for the refund.
Conclusion of Our Advanced Peptide Antioxidant Serum Review
This product is packed with a variety of ingredients that target different areas when it comes to keeping your skin healthy and wrinkle-free. It also provides the customer with a 30-day guarantee and the product itself is pretty easy to use. However, compares to similar products on the market this day cream is expensive. The lack of discounts also provides little to no reward for loyal customers. We also feel that the guarantee policy is not competitive enough, seeing as you only get 30 days to return your product and that you won't even be reimbursed for handling or shipping expenses.
Top investigative research brought to you by the experts at Customer Review.