Mirenesse Wrinkle Zero Day Refining Serum Review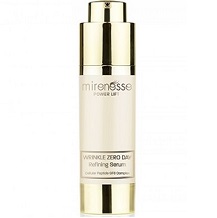 This review is for a product called Wrinkle Zero Day Refining Serum, manufactured by Mirenesse. The manufacturer claims that this is a powerful anti-ageing day serum moisturizer that helps to refine and hydrate the skin making it look younger and wrinkle-free. To find out more about Mirenesse Wrinkle Zero Day Refining Serum and to see if this product is something worth trying, read our full review below.
Ingredients
Peptide GF6 Complex
Vitamin C
Squalane
The ingredients mentioned above are the key ingredients in Mirenesse Wrinkle Zero Day Refining Serum. These claim to help optimize the skin's repairing system and also provide antioxidants and moisture to the skin. It also aims to help maintain the skin's plumpness and volume. We were however unable to find any patented ingredients that have been proven to be effective based on credible studies and clinical research. This is quite a drawback as other brands contain up to 5 patented ingredients.
Instructions
The only instructions provided by the manufacturer is that the product should be applied daily before primer. These are not bad instructions, however one does not know how much to apply. We do however appreciate the fact that the product comes in an easy to use airtight pump bottle.
Price
A 30 g bottle of this product is sold on the manufacturer's official website. It will cost you $68.23, which is quite pricey. In addition to this, the manufacturer fails to look after their customers by providing a discount. Also, there are no bundle deals made available to help the customer depending on their need.
Guarantee
The manufacturer allows a 30-day return period on products that have been purchased. To our dismay, we found that only unused items may be returned for a full refund. This means that first time customers will not have the opportunity to test and try the product to see if it works. As a result, you will be purchasing this product with a financial risk involved. You are better off searching for a manufacturer that provides a solid guarantee.
Conclusion of Our Mirenesse Wrinkle Zero Day Refining Serum Review
After our full review of Mirenesse Wrinkle Zero Day Refining Serum we conclude that there are a few positive as well as negative aspects. We like the fact that the product is provided in a pump bottle which offers convenient and fast access to the product.
Unfortunately, the negative aspects stand out, especially when comparing the product to other brands. Firstly, we found that the product does not provide their customers with clinically proven patented ingredients. If the ingredients are not backed by scientific research, the product may not be seen as very effective. Furthermore, the customer is not offered discounts or package deals and the product is priced quite high. Lastly, the manufacturer offers a weak guarantee that will leave you at risk. Due to these faults that we found, we are unable to recommend Mirenesse Wrinkle Zero Day Refining Serum as an effective day serum.
Top investigative research brought to you by the experts at Customer Review.