Premium Certified ThyroidMD Review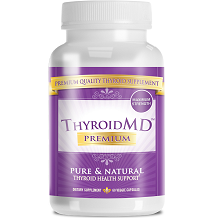 This is a review of ThyroidMD, an all-natural supplement that promotes thyroid health and thus contributes to overall vitality because the thyroid gland influences many bodily functions; such as metabolic rate, brain development, and bone maintenance. The manufacturer of ThyroidMD is Premium Certified who take pride in the well-researched formula of pure and clinically proven ingredients that ensure that their product is the leading thyroid supplement on the market. Click here for more information on the manufacturer.
Ingredients
Magnesium
Zinc
Manganese
Vitamin B12
Selenium
Copper
Iodine
Molybdenum
L-Tyrosine
Magnolia Vine
Ashwagandha Root
Bladderwrack
Kelp
Gugulipid
Gotu Kola
Coleus Forskohlii
Premium Certified use a selection of ingredients that are vegan and animal-friendly as well as 100% pure and natural. Iodine is a key nutrient for hormone production in the thyroid gland and thus the inclusion of this ingredient can prevent an iodine deficiency while promoting the optimal functioning of this gland. The other ingredients form a synergistic combination designed to promote thyroid health, hormone synthesis, reduce inflammation, and support the effective functioning of this gland. The formula had been through third-party testing, registered with the FDA, and abided by cGMP guidelines to give customers peace of mind that this product is not only high quality but effective too.
Dosage
It is clearly stated on the product website on how to effectively use ThyroidMD. You simply take two (2) capsules daily, one (1) in the morning and one (1) in the afternoon.
Possible Side Effects
As this all-natural product is made with pure and quality ingredients, there has been no report of unwanted side-effects as a result of use. Health is a priority, so as a general rule of thumb, consulting a physician before starting any supplement or diet change is suggested.
Price
To purchase a 1 month's supply of ThyroidMD (60 capsules), you can buy a bottle from the manufacturer's website for $48,00. There are many package options available that offer various savings, such as the most popular 6 bottle option. This is where you pay for 3 bottles and get 3 free – paying a total of $138,00. This not only gives you a 6-month supply but allows you to save $270,00 in the process! With the package offers available, customers will be more than able to afford the sustained use of this superior supplement.
Guarantee
There is an impressive 90-day, 100% money-back guarantee available from the manufacturer which showcases a lot of confidence in the efficacy of this product. This policy is extended to opened packages, offering additional customer support by allowing the opportunity to test the product for yourself.
Conclusion of Our ThyroidMD Review
ThyroidMD is a quality all-natural thyroid supplement that allows for the optimal functioning and support of the thyroid gland. This product contains many well-researched ingredients that are vegan, cruelty-free, 100% pure and natural, as well as abide by cGMP guidelines. If this wasn't enough of a testament to the quality, the manufacturer offers an extensive 90-day full money-back guarantee to showcase Premium Certified's confidence in this product. We highly recommended this product as a thyroid supplement of choice.
Top investigative research brought to you by the experts at Customer Review.