Rodan and Fields Redefine Intensive Renewing Serum Review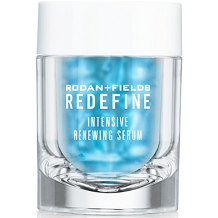 This review is for a product that is manufactured by Rodan and Fields called Redefine Intensive Renewing Serum. This product could be the solution for individuals who want to prioritize the health of their skin. According to the manufacturer, this product helps to keep the skin looking young and improve the signs of aging. Additionally, this product contains several ingredients that will help your skin to repair itself. The manufacturer also claims that individuals who use this product notice a significant reduction for damage done to their skin by environmental factors.
Ingredients
Cyclopentasiloxane
Retinal
Palmitoyl Hexapeptide-14
Retinyl Palmitate
Hydroxyapatite
Bis-Ethylhexyl Hydroxydimethoxy Benzylmalonate
Ethoxydiglycol
When we first looked at the ingredients included in this formula we found that this could be an appropriate solution for individuals who are looking for a nourishing product. However, we were slightly concerned about a few things we uncovered during our research. We were unable to find any clear answers regarding the active ingredients included in this formula. When we look at a product like this, we expect to see a minimum of five active ingredients, which are concentrated at 10%. Unfortunately, we are not sure if this is the case with this product.
Instructions
This product is available in single-use capsules. The manufacturer of this product recommends that you twist the end off of one capsule and apply the serum to your entire face. The manufacturer recommends that you use this serum after cleansing and toning. However, we were disappointed that this product is not available in an airtight pump bottle, which is significantly easier to use.
Price
This product is available directly from the manufacturer on their online store. One bottle of this serum is available for the retail price of $99.00. Unfortunately, we were not able to find any information regarding discounts or special offers that are available for this product.
Guarantee
The manufacturer of this product will provide refunds for this product for sixty days after the original purchase date. Sadly, the manufacturer will only provide refunds for products that are unopened and still in the original packaging. This is rather concerning as it means that people who are not satisfied with this product will have no choice but to keep it.
Conclusion of Our Redefine Intensive Renewing Serum Review
When we reviewed this product, we found that it could be an effective option for individuals who want to improve the condition of their skin. We were rather impressed to discover that there is a sixty-day money back guarantee available when you buy this product. Additionally, we were able to find a wide variety of customer reviews for this product, which seemed quite positive. However, we uncovered a variety of concerning issues during our research. The manufacturer of this product does not state which of the ingredients included in their formula the active ingredients are. Additionally, we were concerned when we discovered how expensive this product is compared to similar products. Finally, the lack of guarantees would make us reconsider this product.
Top investigative research brought to you by the experts at Customer Review.