Derma MD Skincare Pink Silk Face Firming Rejuvenator Review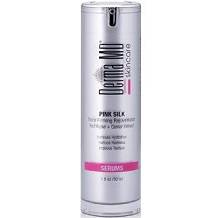 This review will examine the day serum Pink Silk Face Firming Rejuvenator manufactured by Derma MD Skincare. This product claims to help you reduce the appearance of redness and inflammation and makes your skin feel smoother. It also helps you to look younger by decreasing the appearance of fine lines and wrinkles. The result is softer, rejuvenated and luminous skin that feels and looks renewed. It can also be used as an anti-ageing primer for makeup. If you want to know more about how this product works, read the rest of this review below.
Ingredients
Red algae
Palmitoyl Hexpapetide 12
Caviar Extract
Vitamin E
Retinyl Palmitate
Astaxanthin is a natural antioxidant and anti-inflammatory. It helps to protect your skin from sun damage and cancer-causing free radicals. Red Algae is also a very strong antioxidant and contains essential minerals that support the health of your skin. Palmitoyl Hexpapetide 12 helps to keep your skin moisturized by locking moisture in your skin cells. Caviar Extract nourishes and protects your skin and Vitamin E helps to repair and replenish your skin. Retinyl Palmitate increases collagen formation which helps to keep the supporting structure of your skin strong. This can help to prevent future wrinkles and fine lines. Although this product offers great ingredients that are beneficial to your skin, it has no patented, clinically proven ingredients like other competitors. It is also not stated whether this product has at least 10% active ingredients, which are essential to the product being noticeably effective.
Instructions
It is recommended that you apply 1-2 pumps once or twice per day over your face and neck. Massage in until fully absorbed. This product is suitable for all skin types and can also be used as a primer. This product does come in an airtight pump bottle.
Price
You can purchase this product directly from the manufacturer's website for $89.95 per bottle. Each bottle contains 30 ml of product and free shipping is only included on orders valued at a $100 or more. There are currently no discounts available relating to this product.
Guarantee
You can return your product for a full refund within 30 days of the order date if you are unsatisfied with your purchase. However, the bottle must be unopened, unused and in the same condition that you received it in for you to qualify for a refund. This means that you cannot test out this product and then send it back. Shipping and handling charges are also non-refundable. We feel that this guarantee policy does little for new customers that do not yet know how their skin will react to the product.
Conclusion of Our Pink Silk Face Firming Rejuvenator Review
This product contains a lot of potent ingredients that have shown to be effective in reducing the appearance of fine lines and wrinkles. We also like that this product comes in an airtight bottle. However, we feel that this product is also a bit expensive and that the guarantee policy does not provide much peace of mind for new customers. The ingredients incorporated into this day serum are also not patented like in so many other competing brands.
Top investigative research brought to you by the experts at Customer Review.