Mary Jo Magical Lift Day Serum Review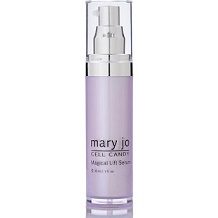 The following review is of Mary Jo Magical Lift Day Serum. The manufacturer of this product claims that it is a rejuvenating and lifting phenomenon. They argue that the formula, designed to visibly lift and firm the skin, will provide excellent results. In this review, we have assessed the accuracy of these bold claims. The information below will tell you more about the product and its quality to ensure that you make a confident product purchase.
Ingredients
Multi-peptides
Cotton Extract
Alfalfa
Rye seed extract
Oat kernel extract
Chamomile extract
The multi-peptides are included in this formula because of their ability to reduce the appearance of wrinkles, restore cytokine balance to mature skin, and keep the skin looking radiant. Cotton Extract works to improve the skin barrier which, in turn, helps protect the skin from harmful free radicals and external aggressors. Alfalfa contains a number of minerals, vitamins, and amino acids. All these substances are extremely important for the body to function. They play a role in supporting nutrient deficiencies that can lead to wrinkles, lines, spots, and pigmentation. Rye seed extract and Oat kernel extract have soothing properties which help nourish, firm, and soften the skin. Chamomile extract is another soothing ingredient that works to prevent dryness and protect the skin. Grape seed extract is rich in substances that prevent the damage of free radicals on the skin as well as protect the skin from the harmful effects of this sun. This formula is beneficial, however, does not contain any patented ingredients which highlight product quality. There are a number of competitor products whose effectiveness is supported by several patented ingredients. Whatsmore, the manufacturer does not outrightly claim to be cGMP certified which suggests that quality may not have been a priority during production.
Instructions
The manufacturer suggests that users apply 4 – 6 drops to the face. They provide no other guidelines for use. They fail to indicate how the product should be applied, when it should be applied in the skincare routine, or if there are precautions to take. This, coupled with the fact that they don't provide the concentrations of active ingredients, is very concerning as we cannot determine product strength.
Price
Potential customers can purchase this product online from the manufacturer's store. A bottle of 30ml retails for $59.95. This is substantially more expensive than the market standard and there are no discounts to encourage a consumer purchase. The prolonged use of this product could become a costly endeavor.
Guarantee
The manufacturer claims to offer a 30-day return policy, however, fails to provide information pertaining to eligibility. We are uncertain if partially used products can be returned and this is a major concern. The vague return policy suggests that they are not confident in the product and this does not bode well for effectiveness. We were unable to find sufficient customer reviews for this product. This is concerning as there is not enough support for product quality to instill confidence in a purchase.
Conclusion of Our Mary Jo Magical Lift Day Serum Review
Mary Jo Magical Lift Day Serum seems like an attractive product, at first glance. The formula contains key ingredients used in competitor products on the market. There is also a guarantee to cover customer purchases. These factors aside, the product has many disadvantages. Firstly, the formula does not contain any quality patented ingredients. The product is substantially more expensive than certain competitors on the market. The return policy does not state eligibility for a refund. And, the lack of customer reviews means we cannot be certain of efficacy. For these reasons, we recommend searching for an alternative day serum.
Top investigative research brought to you by the experts at Customer Review.