Green Garden Gold Day Sunrise Serum Review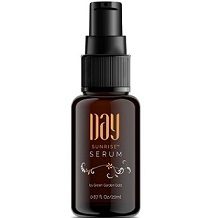 This product review is of Green Garden Gold Day Sunrise Serum. This day serum is designed to moisturize the skin, reduce the appearance of fine lines, and reduce feelings of irritation. The product is supposedly packed with essential nutrients. Whether the product can deliver optimal skin care results, this review will determine. Continue reading for more information about the quality of this product.
Ingredients
Spearmint Oil
Ginger Oil
Eucalyptus Oil
Rosehips Seed Oil
Broccoli Seed Oil
This formula consists of several natural oils that are known to have a number of benefits for the skin. Spearmint is known to reduce acne and skin conditions by restoring the cells and tissue. Ginger is a natural anti-inflammatory that is known to soothe redness, eliminate bacteria, and prevent the signs of aging. Eucalyptus Oil is a natural antiseptic and antifungal agent. This ingredient works to speed up the healing of the skin. Clove Bud Oil is an antimicrobial and antiviral agent that prevents the damage caused by free radicals and aggressors. Rosehips Seed Oil is rich in fatty acids which play an important role in tissue development and cell regeneration. In doing so, this ingredient reduces the appearance of wrinkles and fine lines. Broccoli Seed Oil is used because it absorbs rapidly and is rich in moisture content. It works to hydrate and nourishes the skin. While this all-natural formula may provide positive results, it is unlikely that it will provide the best results. The formula does not contain any patented ingredients which are an indication of product quality. Several competitors contain up to five patented ingredients and, therefore, would deliver improved results.
Instructions
It was disappointing to note that there are no directions for use of this product. This is concerning as potential customers cannot be sure of how to use this product for best results, when to apply it, and if they need to take any precautions before first application. Furthermore, there is no indication as to the concentration of ingredients used. Therefore, we are unsure of the strength of this formula.
Price
At the time of writing this article, the product page on the manufacturer's website was unavailable. Despite further research, we were unable to locate a third-party stockist of this product. This is a major concern as customers who wish to purchase it cannot do so. Furthermore, we cannot assess the affordability of this product when compared to alternatives on the market.
Guarantee
The manufacturer states that all orders returned within 30 days of purchase are eligible for a refund. This claim sits in a small corner of the website and there is no further information to support this guarantee. This is extremely concerning as the vague return policy does not instill much confidence in product efficacy. Another concern is that there are limited customer reviews for this product. Therefore, we cannot confidently vouch for the effectiveness of this product.
Conclusion of Our Green Garden Gold Day Sunrise Serum Review
We have highlighted a few positive aspects of this product. The formula is all-natural and contains beneficial substances. The emphasis on sustainability and ethical business is an appealing selling point. However, the guarantee is exceptionally vague and suggests that the manufacturer is skeptical of the product. At the time of writing this article, we could not locate a stockist for this product. There are insufficient customer reviews to support this product. The formula lacks many essential patented ingredients. Therefore, we do not recommend Green Garden Gold Day Sunrise Serum.
Top investigative research brought to you by the experts at Customer Review.