Kedma Elixir Day Hydrating Serum Review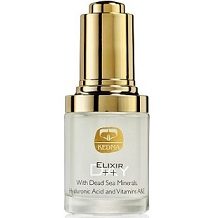 This is a product review of Kedma Elixir Day Hydrating Serum. The company that manufactures this product state that the rich Deep Sea serum will quickly penetrate deep into the skin to deliver effective results. The product is formulated to minimize the appearance of wrinkles, improve uneven skin tone, and protect the skin from harmful toxins. Whether or not the product can live up to these bold claims, we have assessed in the following review. Read on for more information about the quality of this product.
Ingredients
Aqua
Sodium Hyaluronate
Phenoxyethanol, Chlorphenesin
Tocopheryl Acetate (Vitamin E)
Retinyl Palmitate (Vitamin A)
Panthenol
There are a number of important ingredients in this formula that can be found in alternative products on the market. Vitamin E is an essential vitamin for the skin as it helps reduce the appearance of fine lines, protects the skin against sun damage, and promotes the growth of healthy new cells. Vitamin A is another important vitamin because of its ability to stimulate the production of fibroblasts which develop tissue and keep skin firm. Panthenol, commonly known as Vitamin B5, has restorative properties and plays a role in preventing irritation, dryness, and scarring. Sodium Hyaluronate supplies Hyaluronic Acid to the body which is essential for the body's production of collagen. Collagen is a substance, that decreases with age, which helps keep the skin plump. Therefore, the supplementation of collagen-providing substances can reduce the appearance of wrinkles and fine lines. Although this formula could provide effective results, it is unlikely to deliver optimal skin care results. That is largely due to the fact that the formula does not contain any clinically proven patented ingredients like some competitors do. These patented ingredients showcase formula quality as they are supported by lengthy research and trials. Therefore, formulas that include patented ingredients may provide superior results.
Instructions
Customers are advised to apply this product to the fact in a gentle, circular motion each morning before makeup. The manufacturer does not stipulate the concentrations of active ingredients, therefore, we are uncertain of the product potency. Furthermore, they do not advise users about any precautions or tests to conduct before first application to ensure positive reaction to the formula. These factors raise major concerns.
Price
Customers willing to buy this product can do so online from the manufacturer. Each 30ml bottle will cost $399.95. This is extremely expensive and well over the market standard. The high price is very concerning as the formula contains no patented ingredients to justify this. Furthermore, there are no discounts or bulk-buy deals. Long-term use of this product is unsustainable.
Guarantee
Kedma has a return policy hidden deep within their website. This return policy is convoluted, does not indicate a length of acceptance, nor does it apply to partially used products. This means the unhappy customers have no way of applying for a refund. The lack of review suggests that they are uncertain if the product will, in fact, work. This, coupled with the fact that there are limited customer reviews, are major concerns.
Conclusion of Our Kedma Elixir Day Hydrating Serum Review
While there are a few positives to this product – such as the beneficial formula of ingredients and indication of a return policy – there are many negatives. The formula is extremely expensive and long-term use is unsustainable. The formula does not contain any patented ingredients to support product quality or justify the high price. The return policy is convoluted and unclear. And, there are very few customer reviews to vouch for its effectiveness. We cannot recommend this product as the ideal purchase.
Top investigative research brought to you by the experts at Customer Review.