Hemplogica Anti-Aging Serum Review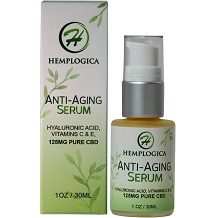 According to the manufacturer, this day serum contains a variety of key ingredients that nourish the skin while also defending it from the harmful effects of aging. The manufacturer also claims that the ingredients included in this formula will not only defend your skin from the damage that is caused by free radicals in the environment but it will also help your skin to retain collagen and keep moisture locked in. This will leave your skin looking more dewy and youthful than ever before.
Ingredients
Distilled Water
Pure Hyaluronic Acid
Full Spectrum CBD
Vitamins C & E
Natural Citrus Scent
At first, when we examined the ingredients included in this formula, we found that this could be an effective option for individuals who want to improve the condition of their skin. However, our research uncovered a variety of issues with this formulation. The manufacturer of this product does not disclose what percentages of the active ingredients are included in this formula. We found that products like this that are effective contain at least a 10% concentration of the active ingredients.
Instructions
After thorough research, we were unable to find any information regarding the directions for the use of this product. We believe that this is rather unfortunate. We would recommend that you apply this serum to your skin in the mornings before you apply your sunscreen. However, we would suggest that you consult your doctor before using this product.
Price
You can find this product on the manufacturer's online store. This product is currently on sale for $49.99, marked down from the original retail price of$69.99. Additionally, if you subscribe to the manufacturers repeat delivery program you will receive an additional 15% discount. However, you will probably have to pay extra for shipping.
Guarantee
According to the information, we were able to find that on the manufacturer's website they offer a 100% satisfaction guarantee. However, they do not provide any additional information. Therefore, we are not sure if this guarantee is only valid for a certain period. Additionally, we are not sure if the manufacturer accepts returns on products that have already been opened. We found this rather concerning as it means that you will have no choice but to keep the product if you are not satisfied with your purchase.
Conclusion of Our Hemplogica Anti-Aging Serum Review
After we completed this review, we found that this product is a good option for individuals who are looking for a hydrating product. The manufacturers provide excellent discounts for the customers who purchase this product. Additionally, you receive an excellent guarantee when you purchase this product. However, our research indicates that there are a few problems with this product that cannot be overlooked. The manufacturers of this product did not include several key ingredients in their formula. We were also unable to find any instructions for the safe use of this product. Additionally, we were surprised to discover that there are no customer reviews available for this product to give us an indication of what people thought of this product.
Top investigative research brought to you by the experts at Customer Review.